Junior's Photo to be Featured in Galapagos Conservancy 2007 Calendar
August 27, 2006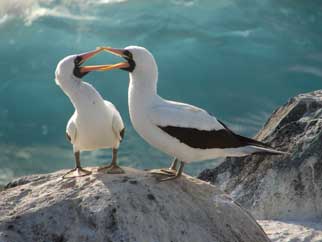 August 27, 2006, Greencastle, Ind. - For the second consecutive year, a photograph by a DePauw University student will be featured in the Galapagos Conservancy's calendar. Jacqueline M. Betsch, a DePauw junior, has received word that her photo -- which you see at the top of this story -- will appear in the Conservancy's 2007 calendar, which will be released in about six weeks.
The image, which will appear on the June 2007 page, was taken during a 2006 Winter Term trip to the Galapagos Islands. Jackie Betsch and 12 other students were accompanied by Kevin Kinney, associate professor of biology, and Carrie Van Brunt, assistant professor of psychology.
Last year, an image by Stephanie Ball, who graduated in May, appeared on the cover of the calendar. The shot in question (seen below right), of a seal blowing bubbles, was taken during a 2004 Winter Term trip to the Galapagos that was led by Dr. Kinney and Dana Dudle, assistant professor of biology at DePauw. Another photo taken by Dr. Kinney during the same excursion was printed inside the 2006 calendar.
Galapagos Conservancy (GC), formerly known as Charles Darwin Foundation, Inc., advocates for the lasting protection of the Galapagos Islands through programs of constituency building, education, and fundraising in North America. GC raises more than $2 million annually to fund the conservation work of the Charles Darwin Foundation (CDF) and the Galapagos National Park Service (GNPS), and supports
local actors in Galapagos that work in partnership with the CDF and the GNPS. Galapagos Conservancy manages $4.5 million in endowed funds to support conservation in Galapagos.
"Awestruck. That's how we feel about the level of participation and quality of the photos we received for the 2007 Galapagos Conservancy calendar photo contest -- it was our most prolific year to date, and the most difficult to judge," notes the organization on its Web site. "We pored over more than 900 stunning photos from 200 of our very talented members, and painstakingly narrowed down the winners to 15."
The calendar will be available for purchase at the Conservancy's Web site in mid-October. See all of the winning images by clicking here.
Back