American Chemical Society to Honor Percy Julian '20 Next Month; Two-Hour PBS Documentary Airs February 6
August 31, 2006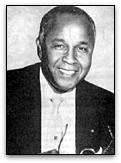 August 31, 2006, Greencastle, Ind. - "The American Chemical Society and the Public Broadcasting System are honoring the late African-American chemist Percy Julian in San Francisco," begins a United Press International story on the 1920 DePauw University graduate. "The society will host a symposium during its 232nd national meeting and Julian's life story will be the subject of a two-hour PBS NOVA documentary 'Forgotten Genius', scheduled to air Feb. 6 during Black History month."
On September 11, during its 232nd National Meeting in San Francisco, the American Chemical Society is hosting a symposium session -- "Dr. Percy L. Julian: Scientist, Humanist, Educator, Entrepreneur, and Inspirational Trailblazer" -- honoring Dr. Julian and his pioneering work.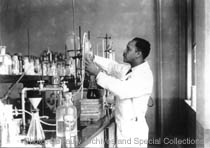 The UPI text notes, "Percy Lavon Julian was born in Montgomery, Ala., April 11, 1899. The son of a railway clerk and the grandson of slaves, he graduated first in his DePauw University class in Greencastle, Ind., at the age of 17. He received his Ph.D. at the University of Vienna. He subsequently conducted research leading to the synthesis of physostigmine, a drug used in the treatment of glaucoma."
Later, as a researcher in the private sector, Julian's work "produced numerous patents and successful products, including a paper coating and a fire-retardant foam used widely during World War II. His biomedical research made it possible to produce large quantities of synthetic hydrocortisone and
progesterone at low cost."
Read the story by clicking here.
Portions of the NOVA documentary were filmed at DePauw, including interviews with Donald "Jack" Cook, professor emeritus of chemistry, and his wife, Marion, who were friends with Dr. Julian and still communicate with his family, as well as Wesley J. Lyda, a 1935 DePauw graduate who studied under Julian. Professor Cook, who has since passed away, worked vigilantly to bring attention to Percy
Lavon Julian's work. Among other things, Dr. Cook's efforts helped convince the U.S. Postal Service to issue a stamp honoring Dr. Julian in 1993.
In 1972, DePauw honored Percy Julian as the inaugural recipient of the McNaughton Medal for Public Service. Learn more in this previous story. (at right: Julian receiving the McNaughton Medal from President William Kerstetter)
Those attending Coming Together 2006 next month will get a sneak preview of the NOVA special. More information can be found by clicking here.
Back