1998 Alum Matthew Roland's Tres Freak Gets 4 1/2 Star Review
August 31, 2006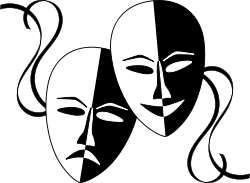 August 31, 2006, Greencastle, Ind. - "Minutia of relationships is playwright Matthew Roland's forte," notes a review of Tres Freak, three playlets written by Roland, a 1998 graduate of DePauw University. The Brand Theatre Company is presenting Tres Freak at the Phoenix Theatre in Indianapolis as part of the second annual IndyFringe Festival.
Roland also appears in the play under the nom de plume of Don Jamaica.
"Tres cheers for a trio of fervid performers attacking with gusto a triad of fervent scripts," writes Rita Kohn in the Indianapolis newsweekly, NUVO. Kohn gives Tres Freak a four-and-a-half star review, adding, "Always surprising, never disappointing, Adam Crowe, Bill Simmons and Don Jamaica play off each other like hot butter on an ear of steaming corn." Read more here.
The IndyFringe Festival concludes Sunday. Remaining performances of Tres Chic at the Phoenix Theatre, 749 North Park Avenue, are: tonight at 9:30, Saturday at 1 p.m., and Sunday at 7 p.m. Learn more by clicking here.
Back