Jazz Great Maynard Ferguson Blows His Horn at DePauw
October 13, 1979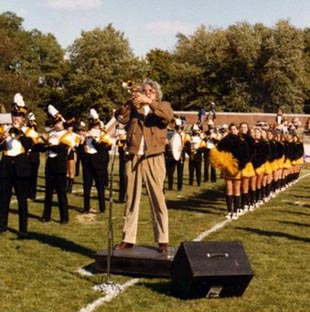 October 13, 1979, Greencastle, Ind. - Maynard Ferguson, a 1978 Grammy Award nominee, gave the DePauw University Marching Band a high octane assist at this afternoon's Old Gold Day football game. The trumpeter, whose recording of "Gonna Fly Now" from Rocky was a top 10 single in 1977, performed with the DePauw student musicians at halftime of the game, hours before performing a concert with his band at the Performing Arts Center's Kresge Auditorium. (top photo shows Ferguson during the halftime show; photo below shows pre-game rehearsal)
The evening concert opened with 'Give It One', Maynard's traditional opener and one of his biggest hits," wrote Richard Roberts in The DePauw in a review of the two hour concert at the Performing Arts Center's Kresge Auditorium. "A sensational performance of 'Birdland' followed. Next came 'Gabriel', a new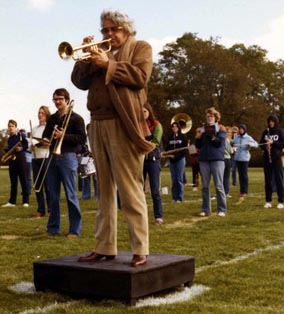 arrangement by Maynard and trombonist Nick Lane. Earlier in the day, Maynard had premiered the as-yet-unpublished marching band arrangement with the DePauw Band during halftime of the Old Gold game." The concert also featured the theme to Rocky II.
"From start to finish, Ferguson thrilled the audience with his many trumpet solos, sometimes reaching as high as two octaves above high C," reported Roberts. "Though he was obviously working very hard, there was no question that he loved every minute of it. And so did the audience."
One of the biggest names in jazz, Maynard Ferguson debuted with Stan Kenton's Orchestra in 1950. His album Conquistidor, which included "Gonna Fly Now", was certified gold with sales exceeding 500,000 copies.
Visit the DePauw Tiger Pep Band online by clicking here.
(photos courtesy of Prof. Dan Hanna)
Back