DePauw Theatre Opens Season with Quilters, September 15-23
September 8, 2006
September 8, 2006, Greencastle, Ind. - You're invited to enjoy the frontier musical,
Quilters
, which opens the new season of DePauw Theatre. Performances of the colorful ensemble piece by Molly Newman and Barbara Damashek are September 15, 16, 17, 22 and 23 in the Performing Arts Center's Moore Theatre. Curtain for the Friday and Saturday shows is at 7:30 p.m.; the Sunday matinee will begin at 2:30 p.m.
Based on the book The Quilters: Women and Domestic Art by Patricia Cooper and Norma Bradley Allen, Quilters revolves around a settler woman, Sarah, and her seven daughters, who weave together stories of many different women's lives to create a patchwork image of life on the Western frontier.
In musical numbers and scenes varying from a romping foot-stomper to haunting ballads, Quilters paints a broad landscape of joy and loss, challenge and sacrifice, and the ability of the female spirit to overcome all odds. As the play progresses, Sarah guides us through the creation of her "legacy quilt," a composition of different blocks that illustrates memories, dreams, hopes and prayers, as reflected in the lives of the numerous women the all-female cast represent.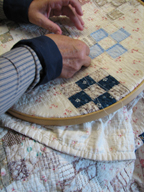 As Sarah and her daughters travel the Rocky Road west and settle into their lives, they share experiences that mirror many of our own -- childhood, marriage, birth, illness and death -- as well as dramatic events like wildfires and river baptisms, which while seemingly foreign, still relate with our own passions. In each of these women's expectations, efforts and trials, we can all find something to connect to.
First performed on Broadway in September 1984, Quilters comes to DePauw under the direction of assistant professor of theatre Andrew Hayes. "I saw a performance of this in 1988, and I've been haunted by it ever since," Hayes says. "I've wanted to produce it myself."
The DePauw cast includes senior Lindsay Adams as Sarah. Her daughters are played by juniors Brittany Brumfield, Laura Ann Johnson and Kelly Gagnon, and sophomores Sarah Grant, Kacey Inscho, Megan Storti and Shani Wahrman. The students have been schooled in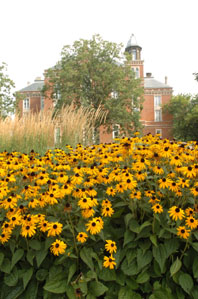 the art of quilting by Greencastle quilter Julie Burns.
Combining music, dance, and dramatic and comedic action, Quilters is a play that is meant to "celebrate those hearty pioneer women who turned a domestic craft into a spirited native form of autobiographical art," as a 1984 review in the New York Times stated. When at the end all the pieces come together to form a magnificent tapestry of love and family, everyone is wrapped up in the warmth of this rich quilt and the love that went into its making.
Tickets for the production are $3 for students and $6 for adults, and are available for purchase at the DePauw University Performing Arts Center box office. Information and reservations are available by calling (765) 658-4827 or emailing pacboxoffice@depauw.edu.
If you purchase a DePauw Theatre patron pass, you're entitled to five tickets for the price of four, which may be used in any combination throughout the season. The passes are available for both students and adults. To purchase or obtain additional information, contact the Performing Arts Center box office at the contacts listed above.
Back