Sixth Monon Bell DVD Planned; Pre-Order and Save
September 19, 2006
Also: HDNet to Televise 113th Monon Bell Classic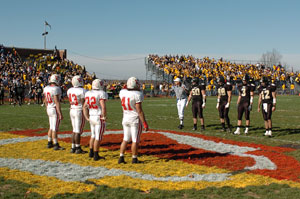 September 19, 2006, Greencastle, Ind. - It's been voted Indiana's best college sports rivalry by fans of ESPN, and the 113th Monon Bell Classic promises to be another game to remember. For the sixth consecutive year, DePauw University and Wabash College will collaborate on a DVD of the battle for the Bell, which will play out Saturday, November 11 in Crawfordsville. The disc will contain every play of the contest, plus a treasure trove of historic and special features, and is available for pre-order for a special "early bird" price of $12 (plus $3 shipping; Indiana residents will also be charged 6% sales tax). The DVD will sell for $15 after November 10. Order here.

[Download Video: "See The Ballad of the Monon Bell" 9346KB]

[Download Audio: "Hear The Ballad of the Monon Bell" 2900KB]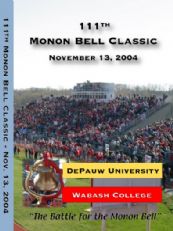 Also for a limited time, the first five Monon Bell DVDs -- covering the games from 2001 through 2005 -- can be had for a special package price of $25, with shipping included. Supplies are limited, with the 2002 disc nearing sellout status.

[Download Video: "2004 Monon Memory" 7774kb]
"Just as fans across the country anticipate this game each fall, as they have for generations, loyalty has been building for the DVD each year," says Ken Owen '82, director of media relations at DePauw, who created the first Monon Bell DVD in 2001 and has mastered every disc. "Players, parents, alumni and fans of great college football rivalries see the disc as a terrific keepsake of not only one game, but of the traditions and great stories this rivalry has created over more than a century."

[Download Video: "2005 Monon Memory" - 9931kb]
Plans call for the DVD to contain as many "Monon Memories" -- highlights of past games dating back to 1939 -- as can be fit on the disc.
The game will be presented in anamorphic widescreen/16x9, as it will appear on HDNet. Other features will include a photo gallery, the music video for The Ballad of the Monon Bell, and the halftime videos from both schools.

[Download Video: "1939 Monon Memory" - 4627kb]
"I've heard many alumni say, 'I wish they were making these when I was a student,'" says Wabash College's Jim Amidon. "So thanks to the good work of Ken Owen at DePauw, we now have the DVD option every year and the die-hard football fans love it."

[Download Video: "1997 Monon Memory" - 2985kb]
To order a 2006 Monon Bell DVD, and to get copies of previous year's DVDs, click here. Credit cards will not be charged for the 2006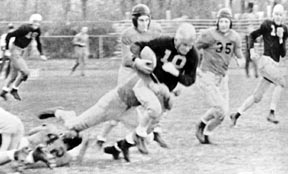 disc orders until the new disc ships, which is usually in late November/early December. The DVDs are made by Sony Disc Manufacturing.

[Download Video: "1971 Monon Memory" - 3161kb]
Heading into the 2006 contest, Wabash holds a slim lead in the all-time series, 52-51-9. The two teams first clashed on the gridiron in 1890 and have met every year since 1911.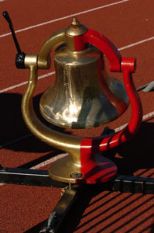 This year's contest marks the 75th since the Monon Bell was introduced in 1932 as the prize for the annual rivalry. Kickoff is set for 1 p.m., eastern time.

[Download Video: "1955 Monon Memory" - 2657kb]
Learn more about the HDNet telecast in this previous story.

[Download Video: "1942 Monon Memory" - 3396kb]
Again this year, DePauw and Wabash will work together to stage alumni telecast parties across the nation where graduates and friends of the colleges can gather to catch up with friends and cheer on their favorite team. Learn about plans for your city and/or sign up to host a gathering by clicking here.

[Download Video: "1999 Monon Memory" - 3824kb]
Access DePauw's Monon Bell Web page here.
Back