Jovialis Gricius '06 is Suzuki Violin Instructor at Arts Academy in NY State
September 5, 2006

September 5, 2006, Greencastle, Ind. - Jovialis A. Gricius, a 2006 graduate of DePauw University, has joined St. Peter's Community Arts Academy in New York as a Suzuki violin instructor. Gricius' appointment is noted in the
Finger Lakes Times
, which reports that she "is a music scholar who graduated from DePauw University in Indiana."
In its inaugural year, the academy hosted more than 300 students last year and expects enrollment to climb this fall. "Arts education nourishes the spirit,"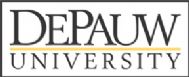 said the Very Rev. Jim Adams, pastor of St. Peter's Episcopal Church, which supports the academy. "The arts can affect the whole quality of life in a community," he tells the newspaper.
Read the story by clicking here.
Back