Union Board Presents November 4 Concert by Guster
October 4, 2006
October 4, 2006, Greencastle, Ind. - "Ganging Up on the Sun is the work of a band who matters," declares a review of Guster's latest album in All Music Guide. On Saturday, November 4, Guster will bring its music to the campus of DePauw University for a 7 p.m. concert in the Lilly Center. The Bees will open. The concert is presented by Union Board. General admission tickets go on sale this morning at 10 via Ticketmaster for $20. Beginning tomorrow, DePauw students, faculty and staff can purchase tickets for $10 at the Campus Life Office (Union Building room 100).
In the coming weeks, Guster will be playing some high profile dates around the nation. On
September 15, the band performed as part of the Austin City Limits Festival, and will be in Las Vegas' Vegoose Festival -- along with Tom Petty, Fiona Apple, and others -- in late October. In an e-mail to fans, members of the band announced the fall tour dates, noting, "at long last, our Greencastle, Indiana debut!"
"After more than a decade as a trio -- with Adam Gardner on guitar and Brian Rosenworcel on a standup cocktail drumkit -- Guster has expanded its lineup and its sound," writes the Associated Press's Michael McCall in another review of Ganging Up on the Sun. "Adding Nashville rocker Joe Pisapia on bass and vocals, the band now plays as a more conventional rock quartet of two guitars, bass and full drums. Their distinctive style, remains, but they also rock harder at times, and the songs feature more diverse textures and a more experimental feel." He adds, "These college rockers have graduated beyond the simple catchiness of their early work, but their appeal stays the same: well-constructed, well-performed pop tunes that aren't afraid to be both smart and hummable."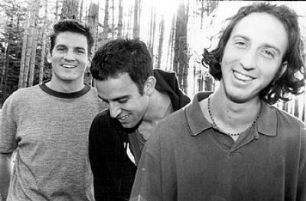 Ganging Up on the Sun is Guster's fifth studio album. Previous releases include, Keep It Together, Lost and Gone Forever and Parachute.
The new CD was released in June and debuted at #25 on the Billboard chart. "Angst has rarely sounded sweeter than it does on Ganging Up on the Sun, which swirls with classic vocal harmonies, vintage organs and lightly strummed guitars," raved a July 10 New York Times review by Nate Chinen. Entertainment Weekly calls the new songs, "Both expansive and dreamy." All Music Guide's Tim Sendra opines, "Guster has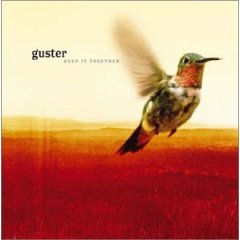 quietly become a very good pop band. And something more. Over the past ten-plus years they've been slowly honing their craft, building their fan base and making records that are unprepossessing but more and more compelling. Ganging Up on the Sun just might be their best yet."
For more information on Guster's concert at DePauw, send an e-mail here.
DePauw has a history of hosting concerts by influential popular musicians. Recent visitors have included the Black Eyed Peas, Jack's Mannequin, Ben Folds, The Roots, Howie Day, Ben Kweller and Rufus Wainwright. Past guests such as Smokey Robinson and the Miracles, Dave Matthews, Billy Joel, The Byrds, America, The Carpenters and The Temptations have also performed on campus.
Back