Indianapolis Star Writes of Upcoming PBS Documentary on Percy Lavon Julian '20
September 8, 2006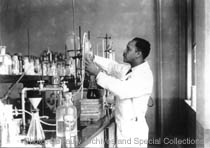 September 8, 2006, Greencastle, Ind. - "During its national meeting on Monday in San Francisco, American Chemical Society members will get a sneak peek at an upcoming PBS NOVA documentary filmed partly on the DePauw University campus," reports Bonnie Britton in today's Indianapolis Star. "Percy Julian (1899-1975), a black chemist and 1920 DePauw graduate, is the subject of 'Forgotten Genius.' Julian, the grandson of slaves, graduated first in his class from DePauw. Among his many achievements was research that led to a drug used to treat glaucoma, and the invention of a fire-retardant foam."
Britton notes that the NOVA special will air nationally on February 6 during Black History Month. She adds that Dr. Julian's "fascinating life and the racial obstacles he and his family overcame are chronicled at a number of Web sites."
Read the item at the newspaper's Web site.
Those attending Coming Together 2006, a reunion of alumni of color at DePauw, September 22-24, will also get a chance to preview the Percy Julian documentary. Read more in this previous story.
The PBS program and American Chemical Society's September 11 symposium on Dr. Julian were also the subject of a recent United Press International report.
Back