Prof. Sunil Sahu Appointed to College Board Advanced Placement Committee
September 8, 2006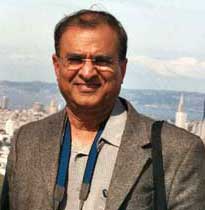 September 8, 2006, Greencastle, Ind. - Sunil K. Sahu, Frank L. Hall Professor of Political Science at DePauw, has been appointed by the College Board to a three-year term on the Advanced Placement Comparative Government and Politics Development Committee. The five-member panel is responsible for designing the advanced placement course in Comparative Government and Politics and for writing and revising advanced placement examination questions. Dr. Sahu was appointed to the committee for his expertise in theory of comparative politics and in politics of the developing nations.
An important task of the newly-constituted committee was to redesign the existing advanced placement Comparative Government course in light of the recent global political and economic changes. The new course, adopted by the College Board in 2006, emphasizes fundamental concepts used by political scientists in a variety of country settings. In addition to the major concepts, the new course covers government and politics in six core countries: China, Great Britain, Mexico, Nigeria, Russia, and Iran. According to Professor Sahu, the cases of China, Britain, Mexico, Nigeria and Russia are regularly covered in college-level introductory
comparative politics courses, but the inclusion of Iran marks the recognition of a political system from a very important region of the world and one that is subject to distinctive political and cultural dynamics.
The full text of the redesigned syllabus is available at the College Board Web site by clicking here. 
Sahu is also involved in the College Board's effort to train and re-orient advanced placement teachers in how to present the redesigned Comparative Politics course. He participated in two panels at the annual Advanced Placement Conference held in Orlando, Florida, July 12-16. You can learn more here.
Back