Tigers Tough Out 7-0 Monon Bell Triumph
November 18, 1939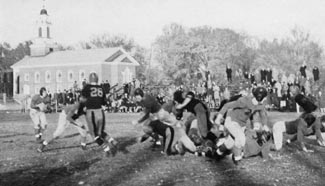 November 18, 1939, Crawfordsville, Ind. - DePauw University maintained its grip on the Monon Bell, now three years running, by defeating Wabash College, 7-0, at Ingalls Field today. The lone Tigers touchdown came on a pass from Art Lavidge to Joe Edwards. The victory ends DePauw's season with a 4-3-1 record.
A "Monon Memory" of the game, utilizing photos from the 1939 season (including the one seen in this article), has been created by Ken Owen '82, director of media relations at DePauw. Access it here:

[Download Video: "1939 Monon Memory" - 4627kb].
A complete index of all available "Monon Memories" can be found here.
Back