Author Cathy Day '91 Busy with Article, College Appearance and Two Radio Interviews
September 12, 2006
September 12, 2006, Greencastle, Ind. - "Fifteen years of moving and making new friends and learning new jobs and moving and starting all over again," writes Cathy Day in the September issue of Indy Men's magazine. "Following sports, following a team, was how I made each new place home," she adds. Day offers a humorous look at sports, love and life the author of The Circus in Winter and 1991 graduate of DePauw University in an essay entitled "Moving Forward."
The article begins on the night of November 28, 2005. The Indianapolis Colts and Pittsburgh Steelers are the Monday Night Football matchup. "I know that my body is walking down the street in Pittsburgh, but the rest of me is back home in Indiana with Colts fans: walking in downtown Indy toward that white, domed spaceship on the horizon;sitting in a sports bar orbiting a Big Box shopping center; descending into a finished basement decorated with upturned horseshoes, writes Day, an Indiana native and avowed Colts fans who is now an assistant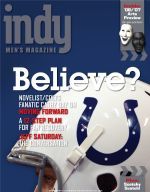 professor of English in the University of Pittsburgh master's of fine arts program. "As I near my apartment, I wonder what it would be like to fly over Indiana this Monday night, if all those TV sets, all those living room picture windows blinking a flickery blue light look like a million stars scattered across the cold, black earth."
Read the complete text in the September 2006 edition of Indy Men's, now available. Visit the magazine's Web site here(the article is not posted).
Cathy Day has a busy week scheduled. On Thursday and Friday, she will visit the University of Louisville as a guest of the Anne and William Axton Reading Series. Read more in the Louisville Courier-Journal.
This Saturday, an interview with Day will air on Indianapolis NPR affiliate WFYI from 4 to 5 p.m. Taped last month, the program includes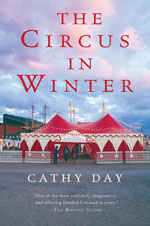 a reading by Day, and the author discusses her next project. You can listen live Saturday via the station's Web site; the program will be archived and be available for one week hereafter it airs.
Then, on Tuesday, September 19 at 7 p.m., Day will appear on Pittsburgh's WYEP radio. In another pre-recorded segment, she'll perform a reading and be interviewed by Ellen Wadey on the program Prosody. Pittsburgh, 91.3 FM. Tuesday, September 19th, 7:00 PM. This is an interview/reading I did with Pitt's own Ellen Wadey for the program "Prosody." Listen live via this link (this interview will not be archived), and learn more by clicking here.
The Circus in Winter was one of 2004's best books, according to a pair of year-end summaries (read more here).
Back