Prof. Raymonda Burgman Joins Indianapolis Chapter of Coalition of 100 Black Women
September 15, 2006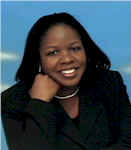 September 15, 2006, Greencastle, Ind. - Raymonda L. Burgman, assistant professor of economics at DePauw University, has been inducted as a member of the Indianapolis chapter of the National Coalition of 100 Black Women. The organization is dedicated to community service, the creation of wealth for social change, the enhancement of career opportunities for women of color through networking and strategically designed programs, and the empowerment of women of color to meet their diverse needs.
"I am excited and happy to join this organization along with these fine women," says Dr. Burgman, one of eight new members added to the Coalition. "I'm especially enthusiastic about the Coalition's alliance with the Academy for Girls, a mentoring program for young women who are high school-aged. I am working on bringing some of these young women to DePauw soon for a campus visit. Many of these girls have tremendous potential but are not aware of the college options that they can consider and avail themselves of."
The National Coalition of 100 Black Women was founded in 1971, "when a group of black women in New York City decided to pool their efforts to address the problems facing them, their families and their communities," noted Kathy Maeglin in a 2003 Indianapolis Business Journal story on the organization. "They dubbed their group the Coalition of 100 Black Women. The success of the New York group raised interest among black women in other parts of the country and led to the creation of the national group in 1981."
Visit the National Coalition of 100 Black Women online by clicking here.
Professor Burgman was quoted in a recent story on her advisee, junior Projesh Banerjea, who spent the summer participating in a highly selective, masters-level summer program presented by the American Economic Association at Duke University. Read the article here.
Back