"Serial Entrepreneur" David Becker '75 Profiled in Indianapolis Star
September 18, 2006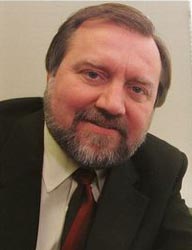 September 18, 2006, Greencastle, Ind. - "David B. Becker is no stranger to risk -- and not just because he is hobbling around on crutches while recovering from a motorcycle accident," begins an Indianapolis Star profile of the 1975 DePauw University graduate. "A serial entrepreneur, Becker has started several businesses and sold a few of them, too," writes Norm Heikens in today's newspaper.
The Star reports that Becker "is best known for launching First Internet Bank of Indiana seven years ago. First Internet, the nation's first state-chartered bank operating solely on the Internet, has climbed to $446.3 million in assets. Late last month, it announced it would buy Landmark Financial Corp., an Indianapolis savings and loan, for $12 million to build its borrower base."
Becker serves as chairman and chief executive officer of First Internet Bancorp. Other companies he has founded include re:Member Data Services, AmeriCard Services, VIFI, OMIF, Inception, and DyKnow. A sidebar notes that he holds a bachelor's degree in political science from DePauw.
What is the chief thing an entrepreneur needs? "Persistence," Becker tells the reporter. "Flesh things out before you go talk to the outside world. No matter how much time and effort you've put into the idea, you're going to miss something. Just expect criticism and be open to it. If you can take it to heart and not let pride or ego get in the way, it's something that can really help."
Becker, who is also an investor in several young firms, is also asked what he looks at before putting his money behind a concept. "The entrepreneur themselves more so than business idea. Particularly in a startup, the entrepreneur is the key to success," Becker says. "Everybody thinks it's money or a business plan or widget. I don't know how many business plans I've looked at that, you know, I need $1 million to get this off the ground. Well, what are you going to do with the money?... I want their skin or their spouse's skin in the game. I want them to be in it as deep as I am. If the entrepreneur is in there full force, and putting their life kind of at risk, then I'm much more comfortable they're dedicated and committed to it."
Access the complete text at the Star's Web site.
Back