Iraq Study Group, with Two DePauw Alumni as Members, Working Toward Recommendations
September 18, 2006
September 18, 2006, Greencastle, Ind. - The Iraq Study Group, a ten-member panel that includes two alumni of DePauw University, "has attracted little attention beyond foreign policy elites since its formation this year, but it is widely viewed within that small world as perhaps the last hope for a midcourse correction" to the war in Iraq, writes Michael Abramowitz in the Washington Post. The study group is co-chaired by James Baker, a former secretary of state, and Lee H. Hamilton, retired congressman and former vice chair of the 9/11 Commission who is a 1952 graduate of DePauw (photo at left shows, l-r, Hamilton and Baker). Vernon Jordan '57 (seen below), former aide to President Clinton, is a member of the study group.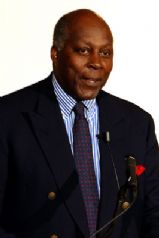 "Rep. Frank Wolf, R-Va., who came up with the idea for the study group, said he thinks the administration is 'waiting anxiously' for the group's recommendations," which are expected to be announced after the November elections. "The study group appears to be struggling to find some middle ground between such a pullout and the administration's strategy of keeping a heavy American troop presence until the Iraqi government can maintain security on its own."
Access the article by clicking here. Read more about the Iraq Study Group in this previous story.
Lee Hamilton, director of the Woodrow Wilson International Center for Scholars in Washington, D.C., will return to his alma mater to participate in DePauw Discourse 2006, October 26-27. Learn more here.
Back