State Historical Marker to be Placed at Nation's First Greek-Letter Sorority; Dedication Set for October 7
September 20, 2006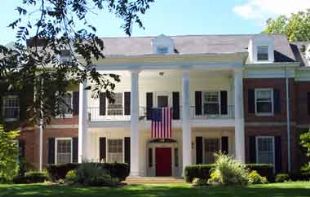 September 20, 2006, Greencastle, Ind. - The Indiana Historical Bureau will note the foundation of America's first Greek-letter fraternity for women on the DePauw University campus by placing a state historical marker at the Alpha Chapter of Kappa Alpha Theta. The public is invited to attend a dedication ceremony for the marker at noon on Saturday, October 7. The Theta house is located at 904 S. College Avenue in Greencastle.
One side of the marker, which will resemble the one seen in the photo below, will read: "On January 27, 1870, Bettie Locke, Alice Allen, Hannah Fitch, and Bettie Tipton established first female Greek-letter college fraternity, Kappa Alpha Theta, at Indiana Asbury University. Fraternity fostered unity, promoted scholastic achievement, and provided social outlet. House built after 1940, when prior chapter house on site demolished."
The second side will continue: "Indiana Asbury University founded 1837. Locke and Allen were two of first women enrolled on limited basis 1867. Women were opposed and ostracized by many male students, faculty, citizens of town, and students at local female seminary. Based on success of these early women, university allowed women to take classes 'on the same terms as' men 1871."
Today, the Alpha Chapter of Kappa Alpha Theta -- 96 members strong -- prides itself on being among the over 120 collegiate chapters of Kappa Alpha Theta. Kappa Alpha Theta's purpose is to support members to learn, grow, and excel, and its core values are personal excellence, friendship/sisterhood, scholarship, service, and leadership.
The Indiana Historical Bureau is the state agency mandated to provide the official Indiana Historical Marker Program, which was initiated in 1921. For more information, click here.
For details on the October 7 dedication ceremony, send an e-mail here or call (317) 407-9685.
Back