DePauw Inaugurates its Eighteenth President, Robert Garvin Bottoms
October 17, 1986

[Download Audio: "Hear Complete Inaugural Address" - 2518kb]
October 17, 1986, Greencastle, Ind. -

[Download Video: "DePauw's Eighteenth President" - 1831kb] DePauw University has outstanding potential, "unprecedented resources and unquestioned competence in the community," Robert Garvin Bottoms said this morning as he was formally installed as the college's 18th president. "We will only be impeded either by our lack of vision, or by our seduction into triviality." Bottoms, who has served as DePauw's president since July 1, was inaugurated in ceremonies before a standing room only crowd at Kresge Auditorium.
As the newly-installed chairman of DePauw's Board of Trustees, Robert R. Frederick '48 (seen below right presenting Dr. Bottoms with the presidential medallion) noted, this marks the first time in DePauw's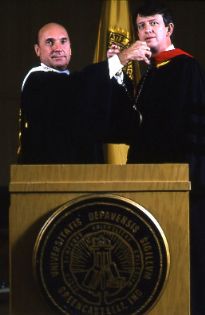 149-year history that a new president has been selected from the University's staff.
The new president praised DePauw's faculty and alumni, and offered this message to students:

[Download Video: "Reason and Justice" - 2342kb] "I am concerned that you are educated for tomorrow, and not for yesterday; that you emerge from DePauw with the knowledge to write, to speak, to organize yourselves effectively; and finally, that you develop here, living among us, a sense of values and the ability to judge the world with reason and with justice rather than intuition and emotion."
He added, "I trust that beyond the competence to earn a living, you will leave DePauw with a commitment to improving the world community."
Robert Bottoms originally came to DePauw in 1978 as vice president for university relations and later became executive vice president for external relations. A graduate of Birmingham-Southern College, Emory University and Vanderbilt University, he began his career in higher education as chaplain and assistant to the president at Birmingham-Southern. He served as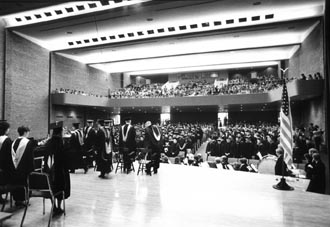 assistant dean and assistant professor of church and ministry at the Vanderbilt Divinity School before being recruited to DePauw.

[Download Video: "Remarks from Dr. Rosser" - 1423kb] "I feel something like a godfather this morning," stated Richard F. Rosser, the man Dr. Bottoms replaces. "I could not be more pleased with the selection of Bob Bottoms. He has been my right hand for eight years; he could not be better prepared." Dr. Rosser added, "In the end, there is nothing more important for the future of this country than the education of its citizens. I know that DePauw, under Bob Bottoms' leadership, will play its role in this vital mission."
In a major address last night, Bottoms emphasized three major areas in which he intends to concentrate -- increasing the diversity in the people and curriculum at DePauw, emphasizing science education, and providing moral leadership and reflection for students in a world where moral direction is lacking.
"The nation in which our students will live will be more ethnically diverse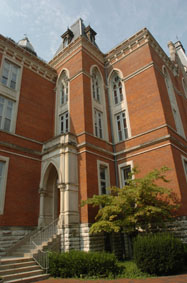 than it has ever been, and we have to wonder if campus culture can reflect just what this diversity means," the new president says. "We have to wonder if one of the challenges before us is not to allow our curriculum to begin to show a parity for the new cultural links to South America and Asia. How will DePauw be relevant to the young people growing up in this diverse culture?," Bottoms asked. "To be educationally relevant and viable in the world community, we have to courageously and seriously explore the issue of diversity in the student body, in the faculty, and in the curriculum."
The inaugural keynote speaker was Alexander Heard, chairman of the Ford Foundation and chancellor emeritus at Vanderbilt University. He called liberal arts graduates the "best hope" for solving the world's problems.
Indianapolis ABC-TV station WRTV covered today's event. Access a video clip by clicking here.
Back