Drew University President Paul Hardin Calls DePauw a "University of Character" at Convocation
September 5, 1986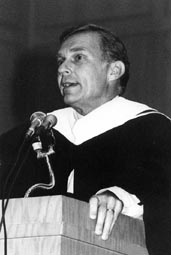 September 5, 1986, Greencastle, Ind. - DePauw is a "university of character" because it is mission-driven, not market-driven, Drew University President Paul Hardin told a convocation at DePauw today. DePauw, Hardin told an audience at Kresge Auditorium, "knows the value of classical liberal arts education and eschews what every recent major student of American higher education decries as rampant careerism in the curriculum. DePauw educates for a lifetime, not just a job."
Hardin continued, "DePauw is a university of character because its academic programs are characterized by rigor and because its faculty maintains high standards of intellectual growth and achievement. DePauw is a university of character because it cares about the development of character in its students and seeks to nourish body, mind and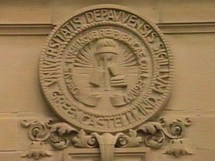 spirit -- to develop, as we say, the whole person. And this is more than admissions office rhetoric."
A Phi Beta Kappa graduate of Duke University, where he also earned a law degree, Paul Hardin served as president of Wofford College and Southern Methodist University before being named Drew's president in 1974.
Today's convocation marked the start of DePauw's sesquicentennial celebration.
Back