Security Chief Grover Vaughan Ends 31-Year DePauw Career
September 22, 1986
September 22, 1986, Greencastle, Ind. - "If there is anyone who is going to be remembered through all these years, it's going to be Grover Vaughan," jokes Chancellor Dick Rosser. "I know he'll be in the next version of George Manhart's history of DePauw." Vaughan, head of security at DePauw, is retiring this month after 31 years of service to the University.
Vaughan left the Greencastle Police Department to work for DePauw in 1955, succeeding Russell Clapp. "I figured working at DePauw would be challenging," Vaughan says. "Doing a police job in an academic atmosphere, you have to justify to students, faculty and staff what you do. You don't actually teach, but in functioning as an officer of the law and enforcing University regulations, you really are acting as an educator."
"Grover," as he's affectionately called by students, remembers Monon Bell-related skirmishes, the time the Phi Gams kidnapped the Sigma Nu Saint Bernard,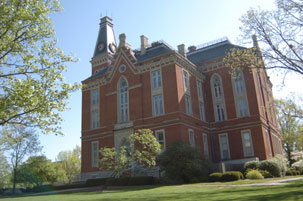 and providing security for visiting dignitaries such as vice presidents Richard Nixon and Hubert Humphrey.
"Students don't talk about calling 'security.' They talk about calling 'Grover,'" says dean of students Joan Claar. "Besides his professionalism, he adds a wonderful spark to the campus and to our office."
The DePauw security staff has grown from one person (Vaughan) to three in recent years, and work-study students are used to supplement the staff. "When (former students) come back on Alumni Day, they check in, especially the ones who used to work for me," Vaughn says. "I think I've had a lot of good relations with students ... I think students appreciate the fact that security is here."
Back