Trustees of Indiana Asbury University Hold First Meeting
March 1, 1837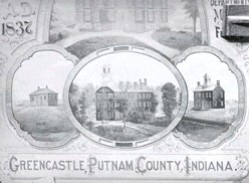 March 1, 1837, Greencastle, Ind. - In an as yet unfinished Methodist church building, the Board of Trustees of the fledgling Indiana Asbury University held its first meeting on this date. Sixteen trustees were present for the session, and 15 were from Greencastle. Physician and farmer Dr. A.C. Stevenson was elected president of the board, Dr. Tarvin Cowgill is the secretary, and businessman Rees Hardesty will serve as treasurer.
Just five months before this meeting, the Indiana Conference of the Methodist Church selected Greencastle over five other Indiana communities as the site of the new university.

Learn more DePauw University in DePauw: A Pictorial History. Written by emeritus professors of history Clifton Phillips and John Baughman, with assistance from professors Harold Spicer and John Schlotterbeck and Wesley Wilson, coordinator of DePauw University's Archives, the book was first published in 1987.
The text and accompanying photos and illustrations can be found online by clicking here.
Back