First Out-of-Town Student Arrives at New University
November 7, 1837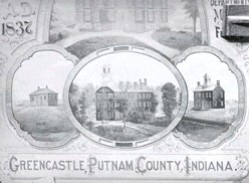 November 7, 1837, Greencastle, Ind. - It took four days by stagecoach, wagon and on horseback, but Indiana Asbury University's first out-of-town student arrived today on campus. It took Tommy Goodwin more than half a week to make the trek to Greencastle from his hometown of Brookville, Indiana. At the new college, he joins approximately 40 other students -- including those in the preparatory school -- ranging in age from 13 to 28.
Goodwin eventually became Indiana Asbury's first graduate, by virtue of the alphabet, on September 16, 1840 (two others received diplomas that day: John Wheeler and Finley L. Maddox). Goodwin went on to a "rather distinguished career as a minister and writer, and until his death in 1906 continued to take an interest in the University," writes George Manhart in DePauw Through the Years.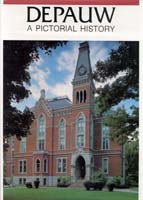 Learn more DePauw University's legacies in DePauw: A Pictorial History. Written by emeritus professors of history Clifton Phillips and John Baughman, with assistance from professors Harold Spicer and John Schlotterbeck and Wesley Wilson, coordinator of DePauw University's Archives, the book was first published in 1987.
The text and accompanying photos and illustrations can be found online by clicking here.
Back