First Three Graduates Receive Diplomas
September 16, 1840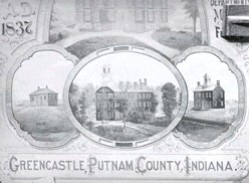 September 16, 1840, Greencastle, Ind. - This was a "gala day," reports George Manhart in DePauw Through the Years, as Indiana Asbury University graduated its first students. Three, to be precise. "First alphabetically was Thomas A. Goodwin, who had been the first out-of-town student to enroll in Asbury."
Manhart notes that Goodwin went on to a "rather distinguished career as a minister and writer." Fellow graduate John Wheeler was also a minister and served as president of Baldwin College and Iowa Wesleyan. The third graduate, Finley L. Maddox, "practiced law in Indiana, served four years in the Indiana legislature, (and) served as a captain in the Mexican War."
At the commencement ceremony, which was attended by thousands of people (some of whom brought picnics), Asbury inaugurated its first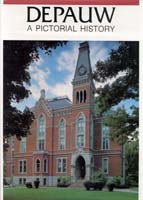 president, Matthew Simpson. Indiana Governor David Wallace was on hand to ceremoniously hand the keys of office to the new president. In his remarks, Simpson noted that the things learned at a college such as DePauw are the "precursors of great improvements," whether in government, or in the arts of civilized life.
Learn more DePauw University's legacies in DePauw: A Pictorial History. Written by emeritus professors of history Clifton Phillips and John Baughman, with assistance from professors Harold Spicer and John Schlotterbeck and Wesley Wilson, coordinator of DePauw University's Archives, the book was first published in 1987. The text and accompanying photos and illustrations can be found online by clicking here.
Back