Classes Dismissed and Asbury Guards Formed as Civil War Begins
April 16, 1861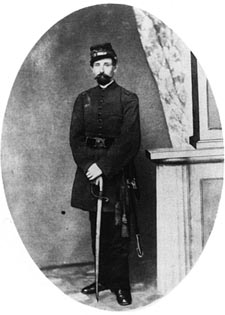 April 16, 1861, Greencastle, Ind. - On this day, three days after the surrender of Fort Sumter and amid President Abraham Lincoln's call for 750,000 volunteers, classes at Indiana Asbury University are dismissed and a military company known as the Asbury Guards is formed. The unit immediately begins drills on campus and on Sunday, April 21, a series of religious services are held "where volunteers spoke of their home in heaven and their willingness to sacrifice their all for their country," wrote George Manhart in DePauw Through the Years. (photo at top shows Capt. Alfred J. Hawn, a member of the Asbury Guards, 1861)
"Twenty-five years later, one of the Asbury Guards reminisced of the meetings in churches, chapel, and society hall: 'They were all more or less touching in this: that mothers, generally, bade their boys, as they believed, a last farewell; fathers made speeches glowing with patriotism, and the girls cried more or less.'"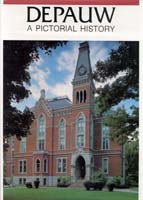 On May 21, 1862, the body of the first Putnam County solider to die in the Civil War, James H. McGill, was returned to Greencastle. Indiana Asbury President Thomas Bowman presided over the service, which took place before what was described as an "immense concourse" on campus.
Learn more DePauw University in DePauw: A Pictorial History. Written by emeritus professors of history Clifton Phillips and John Baughman, with assistance from professors Harold Spicer and John Schlotterbeck and Wesley Wilson, coordinator of DePauw University's Archives, the book was first published in 1987. The text and accompanying photos and illustrations can be found online by clicking here.
Back