Transformation of Angie Hicks '95 from Intern to Entrepreneur Leads to Ever-Growing 'List'
September 24, 2006
September 24, 2006, Greencastle, Ind. - Angie Hicks, co-founder of Angie's List, "has a bachelor's degree in economics from DePauw and an MBA from Harvard Business School, now runs the marketing and advertising of the company," reports today's Fort Wayne Journal Gazette. Hicks, a 1995 graduate of DePauw University, "interned for (Bill) Oesterle at a venture capital firm during college. Just after she graduated from college, Oesterle planted a seed. He told Hicks that she should come to Columbus and start a service so that consumers could rate the work of contracting companies."
The article by Kimberly Peterson continues, "The seed took root. From that conversation in 1995, Hicks began what today has become Angie's List, a multimillion-dollar business with 200 employees in 70 cities that allows consumers to rate contracting work they've had done as well as browse reviews from others." Angie's List has more than a half million members.
Hicks is a native of Fort Wayne, which does not yet hav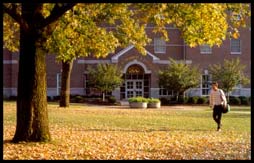 e an Angie's List chapter. "Despite an expected $14 million in revenue for this year, and the fact that Hicks has already exceeded her original goal of having a presence in the 50 most-populated U.S. cities, Angie's List is looking to expand by allowing people to vote (online) for Angie's List to come to their city," reports Peterson. "Because she's a native, Hicks is rooting for Fort Wayne-area residents to dominate the voting. She'd love to expand her business operation to northeast Indiana. 'It's obviously my hometown. It would be really neat to see them win the contest,' Hicks said."
Read the story at the Journal Gazette's Web site.
In July, the Washington Post profiled Angie Hicks and her company. Learn more here.
Back