Indiana Asbury Competes in First Intercollegiate Athletic Event
November 24, 1866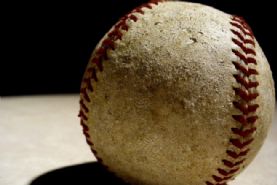 November 24, 1866, Greencastle, Ind. - On this day, Indiana Asbury competed for the first time in intercollegiate sports, losing to Wabash College in baseball 45-31. The challenge came from Wabash, and the Asbury men took the train to Crawfordsville in the morning for the 11:45 a.m. game. Despite being the home team, Wabash batted first.
"Judge Charles S. Jelly, of the Class of 1870, has told how he helped organize the team, making Asbury 'among the first, of not the first, western college to have an organized baseball club,'" reports George Manhart in his book, DePauw Through the Years. Jelly's account continues, "A live ball was used, the pitching was rather slow, and the batting consequently heavy, as such things as catchers'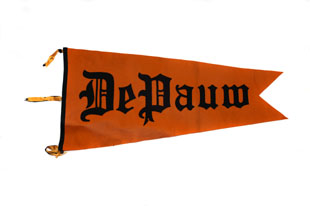 masks, mitts, gloves or protectors of any kind for the players were not even dreamed of."
The Asbury Review wrote, "from the repetition of such contests... much good may be done. The students will become better acquainted with each other and with the institutions themselves, and thus break down, to a great extent, the prejudices we all entertain."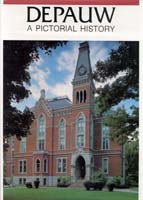 The following May, a second game was played, this time in Greencastle. Wabash won 39-20 in a contest called prematurely to enable the teams to have dinner together before Wabash caught the next train to Crawfordsville. There is no surviving record of another game until 1875, when Asbury turned the tables and won by a score of 39-9.
Learn more about the University's past in DePauw: A Pictorial History. Written by emeritus professors of history Clifton Phillips and John Baughman, with assistance from professors Harold Spicer and John Schlotterbeck and Wesley Wilson, coordinator of DePauw University's Archives, the book was first published in 1987. The text and accompanying photos and illustrations can be found online by clicking here.
Back