Columnist: Lee Hamilton '52 is "Washington's Indisputable Renaissance Man"
September 25, 2006
September 25, 2006, Greencastle, Ind. - "Lee Hamilton has become the go-to guy in Washington since his retirement from Congress nearly eight years ago after serving his southeast Indiana constituents for 34 years," notes a column in the Fort Wayne Journal Gazette. Of Hamilton, a 1952 graduate of DePauw University, Sylvia A. Smith writes, "There are plenty of retired congressmen lingering in Washington. Most become lobbyists. Hamilton could have, too. Instead, he became director of the Woodrow Wilson International Center for Scholars, and from that perch has continued to serve society by lending his brain power and prestige to these many issues. Hamilton is Washington's indisputable Renaissance Man." (photo at left shows Hamilton with DePauw students in historic East College)
Hamilton has been called upon to serve America as co-chair of the 9/11 Commission, Iraq Study Group, and a panel looking into immigration reform. In addition, Smith notes, "President
Bush appointed him to the Foreign Intelligence Advisory Board and the Homeland Security Advisory Council. He's on the FBI director's advisory board, the CIA director's economic intelligence advisory panel, the Pentagon's National Security Study Group and the Homeland Security Department's task force on preventing the entry of weapons of mass destruction on American soil."
The commentary continues, "Though a Democrat, Hamilton is sought after by Republicans to co-chair highly visible commissions because they know he's not a flame-throwing radical partisan... he doesn't exhibit the sense of vitriol that many Washington pols have for people of another party."
The piece begins with Smith reporting, "A fellow journalist for a national newspaper, a person I've known for nearly two decades, leaned over with a whispered question during a lull in the press conference. 'How old is Hamilton?' she asked. I quickly did some math and came up with my estimate: Mid-70s. 'Well, if John McCain can run for president at 70, so could Hamilton,' she murmured. Hardly a partisan advocate, my friend was merely commenting on the pleasure of watching a politically savvy policy wonk in action, this time on laying out the case for a systemwide change in the immigration system that's based on economic reality and common sense." (above left: DePauw President William E. Kerstetter presents Lee Hamilton '52 with an honorary degree, May 23, 1971)
Smith adds,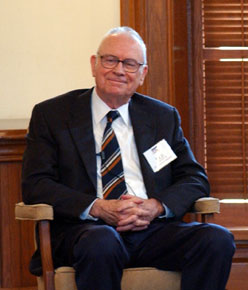 "Our country certainly could use an intelligent, pragmatic, experienced and wise person at its helm," but concludes that a presidential bid is not in the cards for Hamilton. "We're lucky Hamilton, at 75, remains willing to do the heavy lifting he's so capable of doing."
Read the complete text, in which the columnist even suggests a Lee Hamilton-Barack Obama ticket, at the newspaper's Web site.
Lee Hamilton offers an essay on his recent trip to Baghdad in today's Indianapolis Star. He will return to his alma mater to participate in DePauw Discourse 2006, October 26-27. Learn more here.
Hamilton and 9/11 Commission co-chair Thomas Kean -- along with other distinguished individuals such as former Presidents George H.W. Bush and William Jefferson Clinton; Supreme Court Chief Justice John Roberts; and actor and director Martin Scorsese -- have been elected 2006 Fellows of the American Academy of Arts and Sciences (AAAS) and will be inducted October 7.
Back