This Site Hosted Record 305K Unique Visitors, 19.5 Million 'Hits' in September
October 2, 2006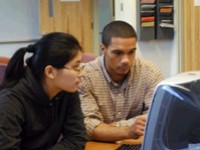 October 2, 2006, Greencastle, Ind. - Traffic on DePauw University's Web site -- which has more than doubled in the last two years -- set new record highs for the month of September.  More than 300,000 unique visitors logged on to DePauw.edu last month, a huge increase over the previous record of 236,776 set in August.  The site received more than 19.5 million "hits," besting the all-time high of 19,406,743 set in April 2006. ("hits" is a count of all the successful hits including HTML pages, pictures, forms, scripts and files downloaded; unique visitors counts each user once per month; visits counts every time a user visits the site)
News continued to be the top destination, and visitors found 110 new stories posted during the month of September.  The most-read articles included positive assessments of the University in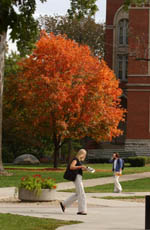 the new Advocate College Guide for LGBT Students and College Prowler guide, the appearance of two DePauw professors on Indianapolis' CBS-TV affiliate, coverage of the first national alumni event at Chicago's Field Museum, the inclusion of four alumni on a list of "Indy's Best and Brightest," the discovery of Charles Bates '39 that an island was named after him nearly 50 years ago, the selection of a DePauw senior by the British Council USA to participate in its prestigious Student Ambassador Program, and Friday's release of the Greek Fact-Finding Commission's report.
The athletics page was the second most-visited area within DePauw.edu.   eServices, student pages, the libraries and the University calendar followed.
The average visitor spent 16 minutes and 58 seconds, per visit, at this Web site.  At least 5.15% of the traffic came from foreign countries, the top ten being: The Netherlands, Australia, Canada, United Kingdom, China, Germany, Portugal, Spain, Singapore and Sweden.
| | | | | |
| --- | --- | --- | --- | --- |
| | Hits | Unique Visitors | Visits | Page Views |
| September 2006 | 19,527,938 | 305,235 | 1,121,446 | 4,446,040 |
| Sept. 2005 | 16,941,609 | 178,879 | 815,614 | 3,609,822 |
| Sept. 2004 | 10,892,473 | 127,606 | 544,287 | 2,636,015 |
| Sept. 2003 | 9,413,867 | 81,171 | 445,489 | 1,975,013 |
| Sept. 2002 | 7,260,618 | 64,445 | 362,884 | 1,302,091 |
| Sept. 2001 | 4,731,435 | 38,056 | 241,615 | 897,918 |
| Sept. 2000 | 2,869,341 | 24,621 | 143,200 | 696,035 |
Back