Toshiba Lecture Wednesday on 'Humanoid Robots and the New Eugenics in Japan'
October 3, 2006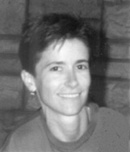 October 3, 2006, Greencastle, Ind. - Jennifer E. Robertson, professor of anthropology at the University of Michigan, will come to the DePauw University campus tomorrow, October 4, to present a Toshiba Lecture on contemporary Japanese society. The topic is "Humanoid Robots and the New Eugenics in Japan." The program begins at 4:10 p.m. in the auditorium of the Richard E. Peeler Art Center.
Robertson has written books and articles on many aspects of Japanese culture, including mass and popular culture, sex and gender systems, and theater and performance.
An abstract of her presentation states, "The emerging field of humanoid robotics is nowhere more actively pursued than in Japan. Robots are expected to be in the 21st century what automobiles were in the last century. Japan accounts for nearly 52% of the world's share of operational robots and leads the postindustrial world in the development of humanoid robots designed specifically
to enhance and augment human society. Robertson explores some of the reasons why Japanese roboticists are devoted to the design and production of 'cute' humanoid robots who can be adopted as family members."
The Toshiba Lecture is free and open to all.
Back