Upcoming NOVA Documentary on Pioneering Chemist Percy Julian '20 Will Reach 6 Million+ Viewers
October 2, 2006
October 2, 2006, Greencastle, Ind. - "DePauw graduate and Julian's right-hand man at Glidden, Wayne Cole, was frail, but his mind was amazingly sharp," notes an article in Chemical & Engineering News on the upcoming NOVA documentary, "Forgotten Genius." Cole, a 1935 graduate of DePauw, "described the processes for handling soybeans that he and Julian developed 60 years ago as if it were yesterday." The story notes that the two-hour program, which premieres February 6 on PBS, also includes an interview with one of Dr. Julian's students at DePauw, Edwin W. Meyer '36. In total, the NOVA crew interviewed about 60 people in 10 states. Percy Julian was a 1920 DePauw graduate who later worked at the University as a research associate.
Cole and two other members of the DePauw community -- professor emeritus of chemistry Donald "Jack" Cook and Wesley J. Lyda, a 1935 DePauw graduate who studied under Julian -- have passed away since they were interviewed for the film in May 2002. Steve Lyons, who co-produced "Forgotten Genius," says the same is true of other former students and colleagues of Julian. "A number of those people died before we began producing the film, yet their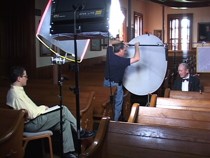 stories live on in the film, and they give the film an immediacy that is extremely unusual for a film like this," Lyons tells the publication.
Graduated from DePauw with Phi Beta Kappa and valedictory honors in 1920, Percy Julian earned a master's degree at Harvard and the Ph.D. at the University of Vienna. His subsequent research brought about development of a low cost method of producing cortisone, as well as a synthethic drug for the treatment of glaucoma, and a fire-fighting foam that saved thousands of lives during World War II.
Percy Lavon Julian served as a member of DePauw's Board of Trustees, and the University's Science and Mathematics Center is named in his honor.
Last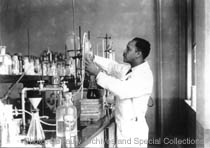 month, the American Chemical Society -- which provided funding to support "Forgotten Genius" -- honored Dr. Julian with a symposium at the ACS' 232nd national meeting. Neal B. Abraham, executive vice president of DePauw, was among the presenters, along with Julian's children, Percy L. Julian Jr. and Faith Julian. The ACS presented a preview of the upcoming documentary, and the clip was also seen on the DePauw campus at last month's Coming Together 2006.
With an audience of six-to-seven million, NOVA's reach is wide. "This is the single most effective opportunity that ACS has ever had to communicate to the public the message of who chemists are and what they can do," says Anne T. O'Brien, who chairs the ACS Board of Directors' Percy Julian Task Force. "This should reach more people than perhaps any other ACS effort."
Adds Willie Pearson Jr., author of Beyond Small Numbers: Voices of African-American Ph.D. Chemists and professor of history, technology, and society at Georgia Institute of Technology, "Despite more than a hundred years of participation in
science, there remains very little written about the African-American presence in science." In remarks at the ACS symposium, he added, "That Julian's story is to be featured on NOVA is a signal moment not only in scientific history but also in American history. A lot of people are not aware of how significant this is." (at right: Dr. Julian receiving the inaugural McNaughton Medal for Public Service at DePauw, 9/30/1972)
Read the complete story in Chemical & Engineering News by clicking here. Learn more about "Forgotten Genius" in this previous story, and access articles on NOVA's visits to DePauw here and here.
Back