Efforts of J. Nichols '89 to Protect Oceans and Marine Life Spotlighted in San Francisco Chronicle & Discussed in Campus Lectures
October 4, 2006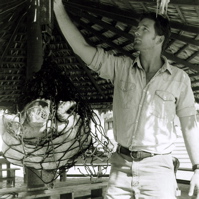 October 4, 2006, Greencastle, Ind. - "I am here with Wallace J. Nichols, a biologist with the California Academy of Sciences and the Ocean Conservancy, who since 1993 has studied endangered sea turtles off the Baja coasts and worked with local fishermen to reverse their decline," writes Peter Aldhous in the San Francisco Chronicle. The story examines how the efforts of Nichols, a 1989 graduate of DePauw University, "are threatened by the trade in illegal drugs. Drug production and trafficking can damage sensitive ecosystems, and some projects, such as those run by Nichols, are undermined by epidemics of addiction among local people. In other cases, biologists and officials who should be enforcing environmental laws are kept away by the threat of violence."
Aldhouse notes, "Officials employed to prevent poaching of turtles and other marine species live in fear of the drug runners, who want to keep government boats out of the water. 'They've had gunfire over their homes at night, flattened tires or smashed windshields on their vehicles -- things that have made them back off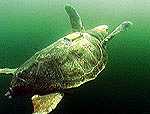 from doing their job,' Nichols says."
Read more by clicking here and here.
Dr. Nichols, who serves as president of the International Sea Turtle Society, returned to DePauw earlier this week to talk and meet with students. In a Monday lecture, Nichols declared, "We take too much out of the ocean, we put too much into the ocean, and we are living on the edge." Nichols challenged the audience to think about the Earth's interconnectedness. He demonstrated this point when he recalled that in 1997 he used satellite tracking to track a turtle across the Pacific Ocean from California to Japan. What happens in California affects what happens in Japan, he stressed, noting that it marked the first time an animal had been tracked across the entire ocean. Students all of the world logged on to the Internet to track the turtle's progress across the ocean.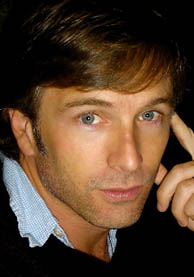 J. Nichols, as he is known, also fondly recalled his DePauw days, joking in a Tuesday talk that that Bowman Pond was the best snorkeling on campus his day.
Although 80% of the life on Earth is in our oceans, Nichols -- who majored in biological sciences at DePauw -- says that less than one percent of it is legally protected, and "seventy percent of our costal areas are designated by the EPA as damaged." Nichols challenged his DePauw audiences with a call to action to save our seas and costal areas. "We need to put less in, take less, and protect the edge," he implored.
Nichols is the founder of Ocean Revolution, an international program designed to inspire and empower young people to protect our oceans. Learn more here.
His DePauw appearances were sponsored by the department of biology, the Blair O. & Teresa A. Rieth Lecture Fund, The Cleveland P. Hickman Memorial Lecture Fund, the Science Research Fellows program, and Delta Chi fraternity.
Back