Prof. Dave Berque Tells TV Program How Innovative Technology is Enhancing Teaching and Learning
October 5, 2006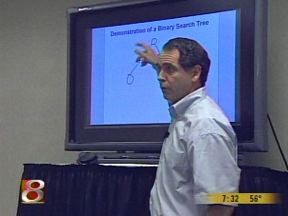 October 5, 2006, Greencastle, Ind. - Pioneering technology that enhances teaching and learning, which has roots at DePauw University, was featured on this morning's edition of Indianapolis CBS affiliate WISH-TV's Daybreak. The news program featured an interview segment with Dave Berque, professor of computer science at DePauw, who demonstrated how the system -- which is manufactured and marketed by DyKnow -- helps students collect better class notes by connecting a teacher's electronic whiteboard or PC to student computers. Students can see, save, and add to what the teacher is writing on the board.
Dr. Berque's work at DePauw led to the development of pen-based technology that is now being used in classrooms around the country. The system, which is manufactured and marketed by DyKnow, received a United States patent in February which lists Berque as the inventor.

[Download Video: "Prof. Dave Berque on WISH-TV" - 992kb] "We're not really eliminating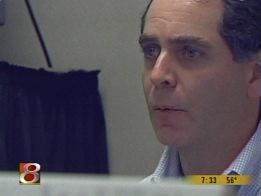 note-taking," Berque told Daybreak's Dick Wolfsie. "What we're doing is we're changing the nature of what students are writing during class, so that they're not just sitting as sort of human copy machines. They're adding value to the notes and they're solving problems."
In the segment, which was taped at Park Tudor School in Indianapolis, Dr. Berque demonstrates how the DyKnow system works. He says students who use the technology leave class with

[Download Video: "More from Daybreak" - 1689kb] "this interactive, collaborative notebook that has all of the content I've sent out to them, plus each student will have his or her own personalizations." The system "is designed to change the sort of thing that the students are doing during class. It's not making them more passive; it's really making them write in ways that are more valuable and then providing a record of that for both the students and the teacher," adds the professor, who serves on DyKnow's advisory board.

[Download Video: "How the System Works" - 1422kb]
The work of Dave Berque, who was named the 1997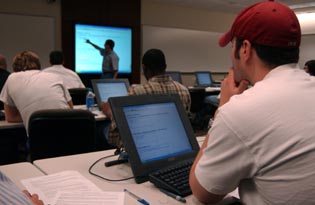 U.S. Professor of the Year for baccalaureate colleges by the Council for Advancement and Support of Education, has been featured in previous stories by a number of media outlets, including CNN and USA Today. In August, Berque was among a group of "innovators" profiled in the Indianapolis Business Journal.
DyKnow was founded by David Becker, a 1975 DePauw graduate and "serial entrepreneur" who was recently featured in the Indianapolis Star.
Source: WISH (CBS)/Indianapolis
Back