Webcast on Greek Fact-Finding Commission Report Monday at 7 p.m.
October 8, 2006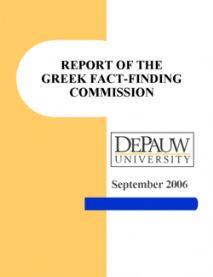 October 8, 2006, Greencastle, Ind. - You're invited to participate in DePauw University's second-ever webcast, in which the chair of the Greek Fact-Finding Commission -- Lisa Hollander, vice president for development and alumni relations -- will discuss her panel's work and take questions from the virtual audience. The program will begin at 7 p.m. (EDT) and can be accessed by clicking here. Questions may be submitted in advance or during the webcast at communityconversations@depauw.edu.
The commission was created in April by a vote of DePauw's Board of Trustees to "identify an impartial set of facts about DePauw's Greek system in the context of the important functions it provides and the constituencies it serves," according to the commission's charge. "The objective is to gather the most reliable information possible in an integrated framework which
articulates impacts across the University." The report was made public on September 29.
In addition to Monday's webcast, there will be a number of other conversations across the campus community. Opportunities for dialogue include: the Alumni Board meeting; three sessions planned -- separately -- for DePauw students, faculty, and staff; and an October 18 invitation for members of Greek house corporations, chapter advisers and national organizations to discuss the report and the issues it raises (see complete schedule here).
For those unable to view the webcast live, the program will be archived and remain accessible here.
More information on the work of the Greek Fact-Finding Commission can be found in this previous story.
President Robert G. Bottoms hosted DePauw's first webcast, which took place February 8.
Back