GOP's "Crown of Moral Authority Has Slipped a Bit" With Foley Case, Writes Prof. Ken Bode
October 6, 2006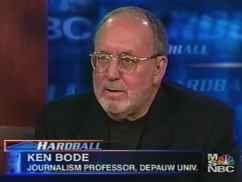 October 6, 2006, Greencastle, Ind. - "Republicans, protectors of family values, have a terminally difficult time dealing with homosexuality unless they are using it for political advantage," writes Ken Bode in today's Indianapolis Star. DePauw's Eugene S. Pulliam Distinguished Visiting Professor of Journalism uses his weekly op-ed to explore the week's biggest story: the resignation of U.S. Representative Mark Foley (R-Florida) after it was learned the congressman had sent lewd messages to young aides.
"In 2004, gay marriage referenda were filed in more than a dozen states to pump up the conservative, religious base, and the GOP may have won the presidency by narrowly carrying Ohio with this tactic," opines Bode. "Otherwise, it is very difficult to be gay if you are a Republican politician. Andrew Sullivan, the openly gay former editor of the New Republic, said, 'I was told (Foley) was gay, closeted, afraid and, therefore, screwed-up.'"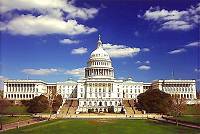 The column continues, "It turns out that many of Mark Foley's House colleagues suspected he was gay, and Foley was warned about earlier, less salacious, e-mails to pages. But the House leadership did nothing further, and that has put a cat amongst the pigeons... Former Speaker Newt Gingrich insists that the leadership could not have been tougher on Foley or they might be perceived as anti-gay. Anti-gay? The Republicans? Heaven forefend! Gingrich, like so many others, seems to grasp no distinction between homosexuality and pedophilia."
In conclusion, the professor -- formerly a senior political analyst for CNN -- writes, "It seems that the crown of moral authority has slipped a bit in the GOP. The party that has used family values to political advantage for years now appears to have allowed a predator who posed a danger to minors to operate for months while

the leadership remained silent. One House Republican suggested that the page program be discontinued. This solution is more or less like saying that the Catholic Church should solve its problem of pederast priests by eliminating the altar boys."
Read the complete text at College News.org.
In last week's column, Ken Bode ruminated on former President Bill Clinton's on-air clash with FOX News' Chris Wallace. Learn more in this previous story.
Source: Indianapolis Star
Back