Coach Elmer McCall Retiring After 23 Years at DePauw
May 29, 1981
May 29, 1981, Greencastle, Ind. - Elmer McCall, associate professor of physical education and former head basketball coach at DePauw, is retiring after 23 years at the University, effective June 30. McCall has also served as golf and cross country coach and has led DePauw's tennis team to the NCAA Division III tournament the past two seasons.
After receiving his bachelor's degree from Fresno State in 1941 and serving in the Navy in World War II, McCall began his successful coaching career at Indiana's Bloomington and Delphi high schools, leading the latter to two sectional championships. The Frankfort, Indiana native then earned his M.A. at Purdue University in 1948 and returned to the west coast briefly, piloting Ventura Junior College to a 112-23 record over four years.
In 1952, McCall returned to Indiana to start a very successful six-year tenure at South Bend Central High School, winning state championships in 1953 and 1957. His overall record was 119-37.
McCall came to Greencastle the following year to begin a 20-year stint as DePauw University's head basketball coach. Twice, he led the Tigers to the NCAA small college tournament -- in 1968 and in 1978, his final year on the bench. He was also named Indiana Collegiate Conference "Coach of the Year" after guiding DePauw to a share of the conference crown in 1968. In 1973, McCall was inducted into the Indiana Basketball Hall of Fame.
"Probably the highlights at DePauw were making the NCAA twice and winning the ICC championship," says McCall. "I can't say I had a favorite team, because they all were favorites. It was also very pleasing to know that the grade point average on the basketball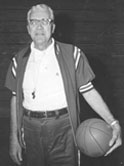 team was higher than that of the campus average, and many players received NCAA honor scholarships."
"Coach McCall had a lot to do with that," adds DePauw athletic director Tom Mont. "An honor like that means that one not only has to have ability as an athlete, but as a student as well. DePauw probably has had more of these student-athletes than any other Division III school in the nation."
McCall also expresses pride in representing the University across the country. During his career, McCall coached the Tigers against teams such as Maryland, Wisconsin, Illinois, Arizona State, South Carolina and Indiana, and his one of his squads played UCLA and Southern California on consecutive nights.
Back