Elmer McCall to Step Down as Basketball Coach at Season's End
November 24, 1977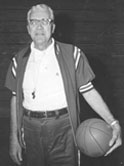 November 24, 1977, Greencastle, Ind. - DePauw University basketball coach Elmer McCall today announced his retirement from active coaching, effective at the end of the 1977-78 season. McCall, twice coach of Indiana State High School basketball champions at South Bend Central High School, has been a head basketball coach for 35 years, including the past 20 at DePauw.
The 61-year-old Frankfort, Indiana native plans to continue as a ful-time teaching member of the department of physical education in which he holds the faculty rank of associate professor.
"After 20 years at DePauw I felt it was time to step down from the head coaching position," McCall says. "I've enjoyed my years of coaching at DePauw and my association with the entire staff. I'm probably just as excited about the prospects for this year's team as I was when I started 35 years ago. I just thought by
announcing my decision at this time that it would be much simpler; I didn't want it (the announcement) to divert my attention or the team's attention from the season once it began."
"We respect Coach McCall's decision to retire after 35 years in the coaching business," noted athletic director Tom Mont. "I think I speak for all of the University community and for Coach McCall's many colleagues throughout the country -- the profession is losing not only a fine coach who has produced championship teams at the high school and college level in Indiana and California, but is also losing as an active participant one of the game's truly fine gentlemen. He is respected for his sense of fair play and his integrity, and those are qualities of immeasurable importance."
McCall, who was inducted into the Indiana Basketball Hall of Fame in 1973, came to DePauw in 1958 after six years at Central High School in South Bend. His lifetime record is 467-378 and includes a 178-278 mark at DePauw where he led the Tigers to an Indiana Collegiate Conference championship in 167-68, earning "Coach of the Year" honors.
Corresponding with his arrival at DePauw, McCall started one of the nation's first comprehensive summer sports camps at DePauw. As a result more than 2,000 young men came to the Greencastle campus for the program and many eventually enrolled as undergraduates.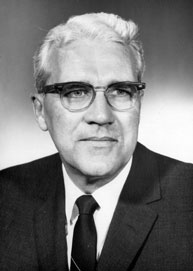 In his six years at South Bend, McCall's teams were 119-37 and won state championships in 1953 and 1957. The latter squad was undefeated in 30 games.
He previously had coached at Ventura Junior College in California, where he went after serving as an officer in the U.S. Navy during World War II. At Ventura McCall's teams won three conference championships, and a state championship once., and the 1950 team took runner-up honors at the national junior college tourney.
McCall was an outstanding basketball player at Frankfort High School and later was all-conference at Ventura Junior College and at Fresno State College, where he was captain of the team. He received the A.B. at Fresno State in 1941 and earned the M.A. at Purdue University in 1948.
Back