First Amendment Center Mentions DePauw in Article on Student Journalism
October 7, 2006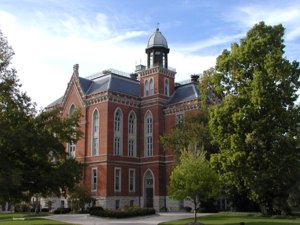 October 7, 2006, Greencastle, Ind. - The Society of Professional Journalists (SPJ), "which began on the campus of DePauw University in Greencastle, Ind., in 1909... is the nation's largest journalism organization with more than 9,500 members, about 2,100 of whom are students," notes a story at the First Amendment Center. "There are currently 238 SPJ chapters active on college campuses across the United States, up from 184 in 1984."
The article by Melanie Bengtson examines the explosion in student interest in journalism in recent years, and the roles SPJ plays in supporting campus reporters and publications. "The number of college students graduating each year with a degree related to journalism has increased by more than six-fold since the 1970s, according to the U.S. Department of Education. With such a large number of budding journalists -- 70,968 at last count -- seeking to join the ranks each year, organizations like the Society of Professional Journalists are stepping up to help train these

young reporters, editors, photographers and bloggers on campus."
Bengtson reports, "For students, the benefits of joining the SPJ are numerous: networking, education, conferences, exposure to their field and exclusive job and internship opportunities. Many chapters organize programs to educate students about getting jobs and how to deal with issues they will face as professional journalists... Opportunities for networking abound."
Read the complete text by clicking here.
Learn about SPJ's founding on the DePauw campus in this previous story.
Back