Five DePauw Trustees Appointed to Study Greek Fact-Finding Report & Work With President on Possible Recommendations
October 6, 2006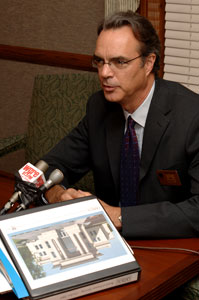 October 6, 2006, Greencastle, Ind. - One week after the release of the Greek Fact-Finding Commission's report, a committee of five DePauw University trustees has now been formed,
[Download Audio: "Greek Fact-Finding Board Committee" - 132kb] "which will be working with President [Robert G.] Bottoms and members of the administration to begin to focus on -- what are the implications of these facts," James B. Stewart '73, chair of the Board of Trustees, announced to student journalists this afternoon as the board concluded its fall meeting. "Once we realize what the implications are -- both positive and negative -- [we'll examine] what solutions, if any, we can propose to enhance the living experience for DePauw students."
The five-member trustees committee includes: R. Lee Wilson '76, Greenwich, CT (chair); Jonathan C. Coffin '06, Washington, D.C.; Alison E. Frost '69, Wilmington, DE; R. David Hoover '67, Broomfield, CO; and James G. Stewart '64, Bryn Mawr, PA.
The Greek Fact-Finding Commission was created by the Board of Trustees last April to "identify an impartial set of facts about DePauw's Greek system," as the commission's charge from President Robert G. Bottoms read. Stewart --the best-selling author of books including DisneyWar and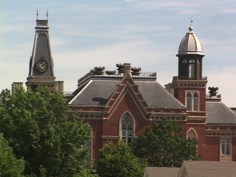 Den of Thieves and a Pulitzer Prize-winner for his work at the Wall Street Journal -- called the work of the 14-member commission "a prodigious accomplishment."
In the coming days, the DePauw community will have a number of opportunities to hear about and discuss the commission's report.  On Monday evening  (Greencastle time; 6 p.m. in Chicago; 5 p.m. in Denver; 4 p.m. in San Francisco) commission chair Lisa Hollander will participate in a live webcast  in which she will discuss her commission's work and take questions from the virtual audience. Queries may be submitted in advance or as the program is taking place at communityconversations@depauw.edu. In addition three sessions are planned on campus -- separately -- for DePauw students, faculty, and staff; and on October 18 members of Greek house corporations, chapter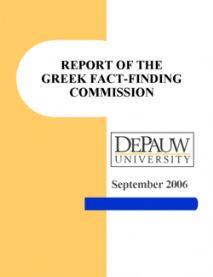 advisers and national organizations are invited to DePauw to discuss the report and the issues it raises (see complete schedule here).
Stewart says the report collects "fascinating" information on the quality of housing for Greek and independent students, the role of alcohol in the campus climate, and how the Greek system fits with the University's academic mission.
[Download Audio: "Historic Opportunity" - 104kb] "This is something that has been simmering at DePauw all the years I've been on the board and, to me, this is an historic opportunity to really honestly look at the situation -- what's good about it, what's bad about it -- and try to do something to make the DePauw experience better for current students and many future generations of DePauw students as well."
Working with Dr. Bottoms, the five-member committee of trustees is expected to present an interim report at the board's January retreat, Stewart told the student
reporters. 
[Download Audio: "The Chair's Hopes" - 56kb] "I'm extremely hopeful that some extremely positive proposals will emerge from this, but it's too early at this point to know what they are."
Stewart called the board's two days of sessions
[Download Audio: "Stewart's Assessment" - 4kb] "an excellent meeting," adding, "overall I think things are in great shape here at DePauw."  The board learned that the University's endowment is at $490.5 million, an all-time record high.
More information on the work of the Greek Fact-Finding Commission can be found in this previous story.
Back