Steve Jones '69 Honored by His Fraternity, Phi Delta Theta
October 7, 2006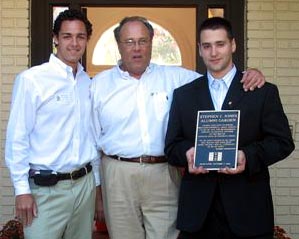 October 7, 2006, Greencastle, Ind. - DePauw University's Phi Delta Theta chapter today honored one of its own as it dedicated a new front porch. Indiana Zeta members and alumni gathered in front of the house as the newly-created area was dedicated as the Stephen C. Jones Alumni Garden. Jones, a Greencastle businessman and 1969 graduate of DePauw, has served for the past 20 years as chapter adviser of the Phi Delts, the fraternity he has belonged to since pledging as a DePauw freshman. (photo, l-r: Landon Boehm, junior and alumni secretary; Jones; Dan Schloss, junior and chapter president)
"For all of those who have proudly worn our badge, none perhaps has given more time, energy, laughs, tears and hugs" than Jones, the chapter announced as it surprised him with the honor at the conclusion of an Old Gold Day luncheon at the Phi Delt house. Jones, the proclamation noted, has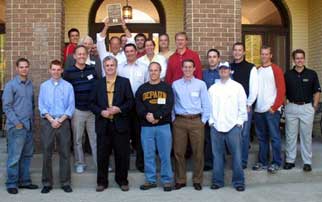 "at times single-handedly kept this ship on course."
The plaque honoring Steve Jones is now mounted at the main entrance to the chapter house.
Phi Delta Theta, Indiana Zeta, was formed on the campus of Indiana Asbury (now DePauw) on February 26, 1868. Since then, nearly 2,000 men have joined the fraternity, including Rob Apatoff '80, president and chief executive officer of Rand McNally; Timothy C. Collins '78, senior managing director, CEO and founder of Ripplewood Holdings LLC; and the late John D. Millett '33, president of Miami University, Oxford, Ohio, from 1953-64 and the first chancellor of the Ohio Board of Regents.
Back