DePauw Wins 100th Annual Old Gold Day Game 31-24 Over Sewanee
October 7, 2006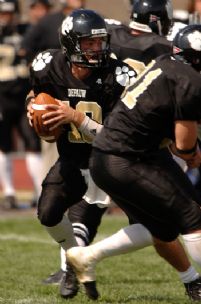 October 7, 2006, Greencastle, Ind. - Alumni who returned to campus for DePauw University's 100th Old Gold Day enjoyed a hard-fought football game on a gorgeous day, as the Tigers defeated the University of the South (Sewanee) 31-24. DePauw improves to 4-1, 1-1 in the Southern Collegiate Athletic Conference, while Sewanee falls to 2-4, 0-2. The game was played under perfectly blue skies and a game time temperature of 65 degrees.
The Tigers' first possession resulted in a 70 yard scoring drive, culminating with a 16 yard touchdown pass from Spud Dick to Chris Gines.  On its second possession DePauw's offense covered 65 yards, ending when Dick -- a freshman quarterback from Indianapolis -- found Bryan Mulligan on a 28 yard touchdown pass. On the
third drive, junior quarterback Abe Winkle tossed a 10 yard TD pass to Nick Etzcorn.
DePauw took a 24-3 lead to halftime, but Sewanee dominated the second half. The outcome was not assured until DePauw fell on a Sewanee onside kick with less than a minute to play.
Tiger junior Jeremiah Marks gained 97 yards on 16 carries today. Sewanee quarterback Wes Satterfield rushed for 247 yards and two touchdowns on 40 carries.
DePauw has won 17 of its last 20 games and 19 of its last 24.  The Tigers have recorded a 62-35-3 record on Old Gold Day, which began in 1907, and have won 23 of the last 27 Old Gold games.
You'll find comprehensive coverage at the football team's Web site. Access an Associated Press recap of today's game by clicking here.
Back