National Book Festival Speech by Richard Peck '56 is Available Online
October 10, 2006
October 10, 2006, Greencastle, Ind. - "'I get most of my ideas from the classroom, but graveyards are good too,' children's writer Richard Peck said during a celebration on the National Mall in Washington at which 70 authors and illustrators held forth on their craft," notes a story at the Web site of the Bureau of International Information Programs, U.S. Department of State. The article recounts the appearance by Peck, a Newbery Medal-winning author and 1956 graduate of DePauw University, at the 2006 National Book Festival.
Peck, writes Elizabeth Kelleher, "told an audience of mostly young teenagers, packed under one of several large tents... about his recent novels set in 'podunk' towns in the early 20th century. He told young, aspiring writers in the audience that, when writing, the first line is most important. 'We live in the age of the sound bite, and you must bite them up front,' he said."
The complete text -- which also notes appearances by Taylor Branch (who will appear at DePauw Discourse later this month) and U.S. poet laureate Donald Hall, among others -- can be found by clicking here. Video of Richard Peck's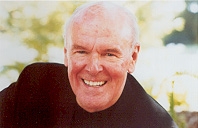 32-minute presentation is available at the Library of Congress' Web site. The humorous and insightful lecture includes a brief reading from his next book, On the Wings of Heroes, scheduled to be released in March.
Peck is the only children's book author to receive a National Humanities Medal. Called "America's best living author for young adults" -- he was the 2001 recipient of the Newbery Medal (the top prize for children's literature given by the American Library Association) for A Year Down Yonder. Peck was also the 2002 winner of the Chicago Tribune Prize for Young Adult Fiction, and the 1990 winner of the prestigious Margaret A. Edwards Award, sponsored by the Young Adult Library Services Association of the American Library Association in cooperation with School Library Journal. He has written more than two dozen novels for young adults, most recently Here Lies the Librarian.
Back