Contemporary Music and Art Interact Wednesday Night at Peeler Center
October 10, 2006
Also: 'Past in Reverse: Contemporary Art of East Asia,' through December 8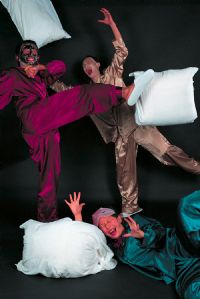 October 10, 2006, Greencastle, Ind. - Experience the first interaction of contemporary music and art in the galleries of DePauw University's Richard E. Peeler Art Center this Wednesday evening. At 6:30 p.m., students and the general public are invited to a non-traditional concert. Wednesday's audience is invited to wander throughout the gallery where members of the percussion studio (led by Amy Lynn Barber) interact with or become a part of the "Past in Reverse: Contemporary Art of East Asia" exhibit.
Musical selections for this performance were chosen specifically with Asian themes or Asian composers for a holistic experience. Plans are to continue to hold these interactive concerts -- presented jointy by the DePauw University School of Music and the Galleries at Peeler -- once per semester.
This week's concert will include Music for Pieces of Wood by Steve Reich, and involve the percussion performers sitting on some of the decorative pillows on display. Another piece, Trio per Uno by Nebojsa Jovan Zivkovic, will play off an exhibit of a three-headed dragon.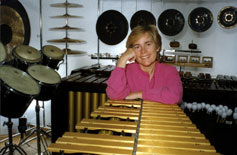 "I'm thrilled that more musical performance will be taking place in the Peeler Art Center galleries, and am also excited to be collaborating with Amy Barber once again on bringing together contemporary art and music," says Kaytie Johnson, director and curator of University Galleries, Museums and Collections. "When live musical performances take place in the galleries, it seems to activate the art on view, and also enhances the experience of our audience by bringing together the visual and the aural."
Adds Professor Barber: "I love the idea of playing contemporary music in a contemporary art gallery."
Established in 1884, the DePauw University School of Music is one of the oldest institutions in the country of its kind. For more information, click here or call (765) 658-4380.
The galleries at the Richard E. Peeler Art Center are open Tuesday through Friday 10 a.m.-4 p.m.; Saturday 11 a.m.-5 p.m.; and Sunday 1-5 p.m. For more information, visit the Peeler Art Center online.
Back