UK's Independent Writes of Prof. Matt Hertenstein's Research on Communicating through Touch
October 10, 2006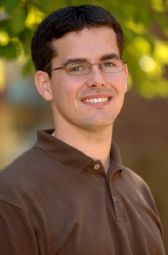 October 10, 2006, Greencastle, Ind. - An article on the therapeutic effects of touch on pain and fighting disease, published in today's edition of the UK's Independent, cites the research of a DePauw University professor and his students. Recent studies "may explain why the touch of a loved one can be therapeutic. But they do not explain why the touch of practitioners and strangers can have a similar effect," writes the Independent's Roger Dobson. "At DePauw University in Indiana, Dr. Matthew Hertenstein may have found an answer. He has discovered that touch communicates emotions. When people were touched by a stranger they could not see, who had been instructed to try to communicate a particular emotion, they were able to tell the emotional state of the other person with great accuracy."
Dobson continues, "The findings show that people can communicate several distinct emotions through touch alone, including anger, fear, disgust, love, gratitude, and sympathy. Accuracy rates ranged from 48 per cent to 83 per cent, comparable with those found in studies of emotions shown in faces and voices."
Hertenstein, assistant professor of psychology at DePauw, tells the Independent, "The evidence indicates that humans can communicate several distinct emotions through touch. Our study is the first to provide rigorous evidence showing that humans can reliably signal love, gratitude and sympathy with touch. These findings raise the interesting possibility that touch may convey more positive emotions than the face."
Read the complete textat the newspaper's Web site.
Visit Professor Hertenstein's Emotion Lab at DePauw by clicking here.
Back