Prof. Doug Harms Writes of the "Significant Impact" of His Fulbright Experience in Bulgaria
October 16, 2006
October 16, 2006, Greencastle, Ind. - "It goes without saying that my Fulbright grant has, and will continue to have, a significant impact on my life as well as on the lives of my family and friends," writes Douglas E. Harms, professor of computer science at DePauw University, in an article posted at the Fulbright Scholar Program's Web site. The recipient of a Fulbright Award for the 2004-05 academic year, Dr. Harms spent the 2004-05 academic year teaching several undergraduate and graduate courses in the department of computing at the University of Rousse in Bulgaria.
In his "Fulbright Story," the

professor reflects upon his experiences in Bulgaria. He was accompanied by his wife Mary Beth and their three youngest children, who attended Bulgarian public schools. "I am honored to be a Fulbright Scholar and grateful for this priceless experience," Harms writes.
Read the article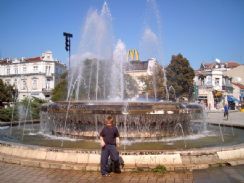 by clicking here.
The professor also conducted research on the history of computing in Bulgaria, took part in seminars, and participated in the life of the University of Rousse's academic community. The university, in turn, named Harms an honorary member of its department of computing.
The professor has established a Web page that includes photos of his Bulgarian experience. Visit it by clicking here.
Read more about the Fulbright program, and Harms' selection, in this previous story.
Back