Upcoming Ubben Lecturer Mitch Albom's New Book Debuts at #1
October 10, 2006
October 10, 2006, Greencastle, Ind. - "Mitch Albom, whose novel For One More Day is No. 1 on USA Today's Best-Selling Books list, is no stranger to the upper reaches of the sales rankings," notes today's edition of the aforementioned newspaper. "But he never has risen to the top so fast -- in the first week of publication," write Bob Minzesheimer and Jacqueline Blais. Albom will come to DePauw University on Monday, November 13 to deliver the Timothy and Sharon Ubben Lecture, "For One More Day: Appreciating the People and Moments We Have Right Now."
Albom's new book will also be the #1 title on the New York Times hardcover fiction list of October 16th, 2006.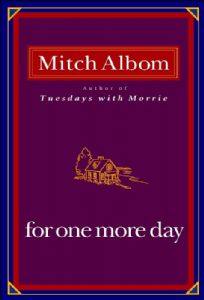 "Day, about a suicidal man's chance to spend a day with his mother eight years after her death, arrived in bookstores Sept. 26," continues the USA Today story. "Albom's 1997 hit, Tuesdays with Morrie, made its debut at No. 36 and reached No. 1 more than two years later. It spent 366 weeks in the top 150. Albom's Five People You Meet in Heaven entered at No. 4 in October 2003 and hit No. 1 more than a year later. Bob Wietrak, Barnes & Noble vice president, predicts Albom's novel 'will be our No. 1 hardcover fiction title for the year,' outselling Nicholas Sparks, Stephen King, James Patterson, Thomas Harris and Michael Crichton."
Access the "Book Buzz" column at the newspaper's Web site.
Learn more about Mitch Albom's Ubben Lecture at DePauw, part of a 62-city book tour, here and here. Biologist E.O. Wilson will deliver an Ubben Lecture on November 8.
The Ubben Lecture Series has brought distinguished individuals to the DePauw University campus since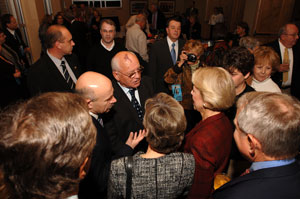 1986, including 2005-06 visitors Mikhail Gorbachev (seen at left), Wal-Mart Effect author Charles Fishman, and feminist Naomi Wolf. Other Ubben Lecturers have included former British Prime Minister John Major, Spike Lee, former Israeli Prime Minister Shimon Peres, Bob Woodward, Ambassador Paul Bremer, Mike Krzyzewski, Jesse Jackson, 2004 presidential candidate and retired General Wesley Clark, Hotel Rwanda's Paul Rusesabagina, Peyton Manning, Benazir Bhutto, General Colin Powell, Fast Food Nation author Eric Schlosser, Ross Perot, Harry Belafonte, Barbara Bush, and ice cream entrepreneurs Ben & Jerry. To view a complete list of Ubben Lecturers, which includes links to video clips and news stories, click here.
Back