'Music and Politics' to be Explored in Recitals, Convocations and Master Class, October 10-12
October 9, 2006
'Music of the 21st Century' Web Site
October 9, 2006, Greencastle, Ind. - "Music of the 21st Century," an annual event that brings contemporary composers to the DePauw University School of Music, has its opening recital performance Wednesday, October 11 at 7:30 p.m. The focus of this year's event is the interconnection between music and politics and features pianists Lisa Moore and Eliane Lust performing the compositions of Frederic Rzewski and Martin Bresnick. Thursday's events include a convocation with the artists, a piano master class and a second recital by Lisa Moore.
As both a composer and pianist, Rzewski has been at the forefront of new music since the early 1960s, collaborating with such diverse artists as Cornelius Cardew, Steve Lacy, and Anthony Braxton. His music will be featured in the concert on Wednesday evening, and he will be performing on piano along with Eliane Lust.
Recently praised by the Chicago Tribune as "a pianist of extraordinary range,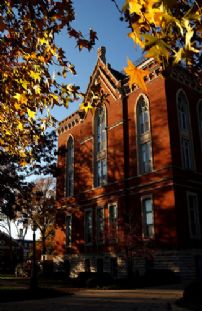 emotional depth and intelligence," Lust specializes in bridging the gap between the traditional and modern piano repertoires and has premiered, recorded and toured her unique programs to regular acclaim throughout the world.
Works of Bresnick will be performed by Australian pianist Lisa Moore on Thursday. The compositions cover a wide range of instrumentation, from chamber to symphonic compositions and computer music. Bresnick's orchestral music has been performed by groups such as the National Symphony, Chicago Symphony, American Composers Orchestra, and San Francisco Symphony.
Described by the New York Times as "lustrous at the keyboard, and at once engaging and challenging," Australian Moore enjoys one of the most diverse musical careers experienced by pianists today. Recent solo artistic ventures include piano with dramatic text recitation and DVD image projection in Frederic Rzewski's adaptation of Oscar Wilde's De Profundis and Martin Bresnick's For the Sexes: The Gates of Paradise, both of which will be featured in Thursday's recital.
The three days of events begin Tuesday, October 10, with a lecture by Carson Holloway, asssistant professor of political science at the University of Nebraska-Omaha, entitled "Music and Political Philosophy:
From Plato to Nietzsche."
On Thursday at 1 p.m. in Thompson Recital Hall, Bresnick, Moore, Rzewski and Lust will discuss their work. At 2 p.m., Lust and Rzewski will present a piano master class for students and faculty in the DePauw School of Music.
Music of the 21st Century is generously funded by the Gilbert S. Lance fund. For more information, click here.
Back