Cummins CEO Tim Solso '69 Announces Project That Could Create 800 Jobs
October 11, 2006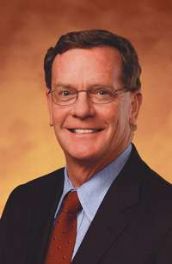 October 11, 2006, Greencastle, Ind. - "This light-duty diesel engine will provide Cummins with the opportunity to develop a completely new market with our industry-leading technology," said Cummins CEO Tim Solso, a 1969 graduate of DePauw University, today as he announced a new initiative that will bring hundreds of new jobs to Columbus, Indiana. Cummins "will hire as many as 800 new workers to build light-duty diesel engines for DaimlerChrysler vehicles weighing less than 8,500 pounds," reports the Indianapolis Star. "Cummins will spend $250 million to retool its Columbus Engine Plant, with production scheduled to start in 2010."
Cummins, based in Columbus, already employs 5,400 there. The Star's Ted Evanoff and J.K. Wall '01 note, "Diesels cost more than gasoline engines, but Detroit automakers are intent on using diesels because they can run 25 percent to 30
percent farther on a gallon of fuel, making them more economical than many hybrid engines."
Indiana Governor Mitch Daniels says, "This will benefit not only the community but the whole area and the whole state."
Access the article at the newspaper's Web site.
Tim Solso is a member of DePauw's Board of Trustees. He and his wife, Denise Manning Solso ('69), provided a gift to the University that created an approximately 3800-square foot laboratory building, Manning Environmental Field Station, within the 520-acre DePauw University Nature Park. Read more in this previous story.
Back