DePauw Begins Monon Bell Ticket Sales October 23
October 12, 2006
Also: HDNet to Televise 113th Monon Bell Classic
Also: Order Your Monon Bell DVD Here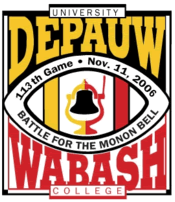 October 12, 2006, Greencastle, Ind. - DePauw University will begin selling its allotment of tickets for the 113th Monon Bell Classic on Monday, October 23 in the DePauw Bookstore. The game itself will be played at Wabash College in Crawfordsville on Saturday, November 11 at 1 p.m.

[Download Video: "1964 Monon Memory" - 3719kb].
Tickets, which are $15 each and limited to 8 per person, may also be purchased by phone with a credit card beginning 10/23 by calling (765) 658-4926, (765) 658-4927 or (765) 658-4980. Hours are from 10 a.m.- 5 p.m. Monday through Thursday, 10 a.m.-3 p.m. on Fridays and 11 a.m.-3 p.m. on Saturdays. All phone orders include a $1 shipping charge for standard U.S. mail delivery. Next day shipping is also available at an extra charge. All tickets sold at DePauw are for seating on the DePauw side only.

[Download Video: "2004 Monon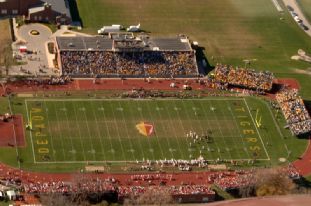 Memory" 7774kb]
This year's game marks the 113th meeting between DePauw and Wabash and the 75th time they've battled on the football field since the Monon Bell was introduced to the rivalry in 1932. Wabash leads the all-time series 52-51-9, while DePauw leads in games played for the Monon Bell by a 35-33-6 count.

[Download Video: "1959 Monon Memory" - 2914kb]
"We again expect the tickets to go fast, so I can't stress enough the importance of purchasing the tickets as early as possible," says DePauw director of athletics Page Cotton. The game has been quick to sell out in recent years.

[Download Video: "2000 Monon Memory" - 1639kb]
Fans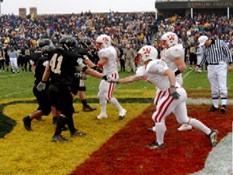 across the nation can see this year's contest on high definition television via HDNet. Details on the telecast and alumni viewing parties that are being organized in dozens of American cities can be found in this previous story.
A DVD of this year's Monon Bell game, with extra features which will include The Ballad of the Monon Bell and "Monon Memories" (clips of past games dating back to 1939), is available for pre-order now. Discs of the 2001-05 Classics are being offered at a special price for a limited time.

Download Video: "See The Ballad of the Monon Bell" 9346KB]

[Download Audio: "Hear The Ballad of the Monon Bell" 2900KB]
To learn more about the Monon Bell rivalry, click here.
Back