Saturday's DePauw-Rhodes SCAC Football Clash a "Family Affair"
October 13, 2006
October 13, 2006, Greencastle, Ind. - "With Rhodes hosting DePauw at noon on Saturday, Alex Boucher asked his mother Barb Boucher to buy t-shirts from both schools, cut them apart, then sew them together," begins a story in today's edition of Memphis, Tennessee's
Commercial Appeal
, which describes the "torn allegiances" Barb Boucher and her husband, Brad, feel. The newspaper's Bill Sorrell explains, "Eldest son Alex is a senior right offensive tackle for DePauw. Middle son Andy Boucher is a freshman backup quarterback for Rhodes. They have never played against each other. 'That is why this is such a big deal,' said Andy. 'Since he's a senior, it will never happen again.'"
The article continues, "To celebrate the Southern Collegiate Athletic Conference brother vs. brother match-up, the Bouchers are throwing a party. They plan to tailgate outside Fargason Field before and after the game with (Rhodes) red balloons on one end of their tent and (DePauw) gold balloons on the other. Friends and family, including grandfather Dwayne Boucher of Aitkin, Minn., will gather for the event."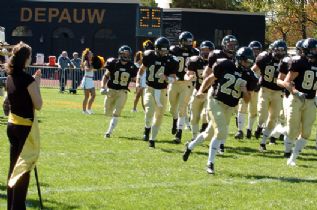 The newspaper notes, "Both Alex and Andy were finalists for the Commercial Appeal's Best of the Preps Scholar Athlete of the Year award... The only time Alex, 22, and Andy, 19, were on the same team was in a Germantown recreational basketball league in 2002-03. Their parents have watched them battle in backyard tackle football games and at the dinner table."
Sorrell reports, "Alex also throws the shot put for DePauw's track and field team while Andy is a shortstop and second baseman on the Lynx baseball team. Both aspire to be physicians with Alex, who has been Academic All-SCAC for two years, making application to UT-Memphis."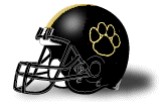 Read the complete story, headlined "Rhodes-DePauw game a family affair," at the Web site of the Commercial Appeal (a subscription to the newspaper may be required). Listen to Saturday's game, which kicks off at 1 p.m. Greencastle time, online via student radio station WGRE.  For the latest on the football team, click here.
The Tigers are 4-1 overall and 1-1 in the SCAC after last week's 31-24 win over Sewanee. Rhodes is also 4-1 overall and 2-0 in conference play after a 21-7 win at Austin last Saturday.
Back