Iraq Study Group, Co-Chaired by Lee Hamilton '52, Works Toward "Forward-Looking and Progressive" Recommendations on War
October 15, 2006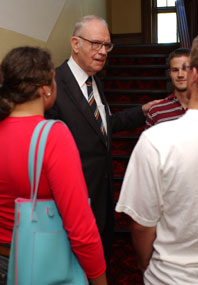 October 15, 2006, Greencastle, Ind. - "It is correct to say that we, at this point, the study group, have not ruled anything in or anything out," Lee Hamilton tells Mark Silva of the Chicago Tribune. Hamilton, former longtime Democratic congressman from Indiana and 1952 graduate of DePauw University, is serving as co-chair of the Iraq Study Group, which will present recommendations to President Bush after the November elections.
"Any speculation about what the report contains is unfounded, because we have not had the discussion of the study group yet," Hamilton maintains. "The group itself has not met to discuss recommendations."
Hamilton, who served as vice chair of the 9/11 Commission, says with the Iraq Study Group -- whose ten members also include Vernon Jordan '57 and co-chair James Baker -- "Our approach is to try to be forward-looking and progressive. We will offer some recommendations
to move forward. We will do our best to achieve a consensus among the group. So far, we have proceeded on a very bipartisan and collegial basis. We are doing our level beset to try to figure out what's good for the country."
But Hamilton, recently called "Washington's indisputable Renaissance man" by a newspaper columnist, asserts, "We will write our own report. It's not going to be written by the White House. It's not going to be written by the Congress."
Read the column at the Tribune's Web site.
Lee Hamilton will return to his alma mater to participate in DePauw Discourse 2006, October 26-27. Learn more here.
Back