DePauw Orchestra Presents ArtsFest Concert, October 29
October 20, 2006
Complete ArtsFest 2006 Schedule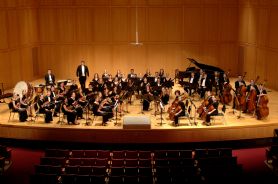 October 20, 2006, Greencastle, Ind. - The DePauw University Orchestra will present "Music Inspired by the Silk Road" at its next concert, Sunday, October 29. The 3 p.m. performance at Kresge Auditorium, which is free and open to the public, will consider aesthetic and musical influences along the Marco Polo trade routes from Venice to Asia, and is presented as part of DePauw's ArtsFest2006.
The Orchestra will perform music by Italian composers Antonio Sacchini and Gioachino Rossini, and Russian composers Alexander Borodin, Mikhail Ippolitov-Ivanov and Igor Stravinsky.
"The inspirations for these composers and their music are different influences from the peoples, their stories and their music all occuring along the lengthy Silk Road," says Orcenith Smith, music director of the DePauw University Orchestra. "From opera plot lines,

geographical imagery, and specific musical vocabulary, we will hear how contact in trade with the Silk Road brought changes to traditional western European classical music."
Featured works will be "In the Steppes of Central Asia" by Borodin, overtures to the opera plotline Semiramide by Sacchini and Rossini, two movements from "Caucasian Sketches" by Ippolitoff-Ivanov, and music from the great Russian ballet by Stravinsky, The Firebird.
Visit the DePauw University School of Music by clicking here. 
Back